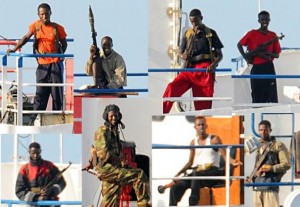 Reports say that a deadly shoot-out left one pirate dead, and two seriously injured on the Bermuda-flagged MV Talca.
The ship was hijacked by Somali pirates almost a month ago, and has 22 crew onboard.
Reports filtering out of the region suggest the pirates are increasingly becoming uncombined.
A few days prior to this shootout, it was reported that a serious dispute among the pirates broke out over location; with one faction wanting the ship to stay at Baargaa, and the other group wanting to proceed to Garacad, an area the European Naval Force refers to as a 'known pirate stronghold'.
After this reported dispute, Somali officials made the call to send in troops to cut supplies to the ship. The pirates responded by saying the crew "will no longer get food and water".
Timeline of Hijack:
March 23: The Talca was hijacked while traveling from Egypt to Iran, approximately 120 nautical miles off the coast of Oman in the Gulf of Aden, which is reported to be one of the most dangerous shipping lanes in the world.
March 24: MV Talca was in transit, reported to be shadowed at least part of the time by a US Warship
March 25: The European Union Naval Force confirmed that the MV Talca arrived off the Somali coast of Bargaal, with the African Press Agency reporting that Governor of Baargaal Ahmed Bile Mohamed said the MV Talca reached his city and people can see it from shore.
March 26: Sketchy reports that the MV Talca may be heading to Garacad, a pirate stronghold
March 28: The Director of the shipping company announced they intend to negotiate for the release of the hijacked MV Talca.
April 4: Reports say that the hostages spoke to their families via satellite phone, and are in good health.
April 10: Reports suggest a serious dispute amongst the pirates broke out over whether the MV Talca should stay in Baargaal or proceed to Garacad or Harardheere.
April 13: Following a decision by Somali officials to cut supplies to the ship, the Pirates say they will starve the crew and deny them water.
April 17: Reported date of the pirate shootout, which left one pirate dead
Read More About