In news that will thrill some, distress others, and totally confuse the rest; Bermuda's own "Paul the Octopus" has made his decision and predicted the 2010 Cup Match Champion. Today [July 27] "Houdini the Octopus", a resident of the Bermuda Aquarium, was provided a similar set-up to his more famous counterpart Paul, and he hovered over and made his decision…as seen below.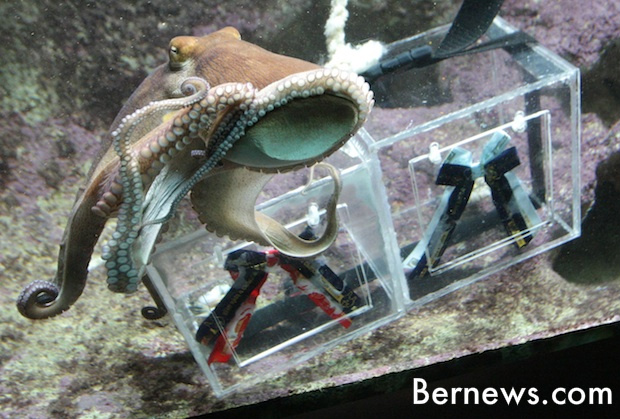 Paul the Octopus, who resides in a German zoo, became internationally famous for correctly predicting the winner of Germany's seven matches at the 2010 World Cup, as well as correctly predicting the final. The story was carried by thousands of news agencies worldwide, and Paul became instantly popular on various social networks.
Paul was presented with two clear plastic boxes, each containing food. Each container was marked with the flag of a team, one the flag of Germany, and the other the flag of Germany's opponent. The box which Paul opened first was judged to be the predicted winner of the game.
Paul predicted the winners of each of the seven 2010 FIFA World Cup matches that the German team played, against Australia, Serbia, Ghana, England, Argentina, Spain, and Uruguay. His prediction that Argentina would lose prompted Argentine chef Nicolas Bedorrou to post an octopus recipe on Facebook.
Paul correctly predicted the outcome of the semi-final, by choosing the food in the box marked with the Spanish flag over his "home" country of Germany. The prediction led to death threats as German fans called for Paul to be cooked and eaten. In response, Spanish Prime Minister Jose Zapatero jokingly offered to send Paul official state protection.
Will Bermuda's own Octopus prediction come through and thrill the West and devastate the East? We'll have to wait and see…
Update July 28: St George's Captain Clay Smith has repudiated the Octopus prediction, see here.
Read More About