[Updated] Bermuda's top teenage sprinter Jeneko Place has cruised through the preliminaries at the CAC Jr Games in Santo Domingo, winning his heat to advance to the finals today [July 2]. Jeneko, who is ranked as one of the top 15 youth sprinters in the world by the governing body [IAAF], recently won two medals at the 2010 Carifta Games, the first local sprinter to do so in years.
The 16 year old Cedarbridge Academy student, who is also an accomplished motorcycle racer, is expected to do well this weekend with medal hopes hanging on the teen. We previously analyzed Jeneko's times to the times of the 2008 Olympic Gold Medal record setting Jamaican relay team [Usain Bolt, Nesta Carter, Michael Frater, and Asafa Powell] and Jeneko comes out very favorably, in many cases putting up faster times than all four members when they were his age.
Update July 3: Jeneko won a bronze medal in the 100 metres, finishing in a time of 11.02. Sprinters from Jamaica placed 1st and 2nd..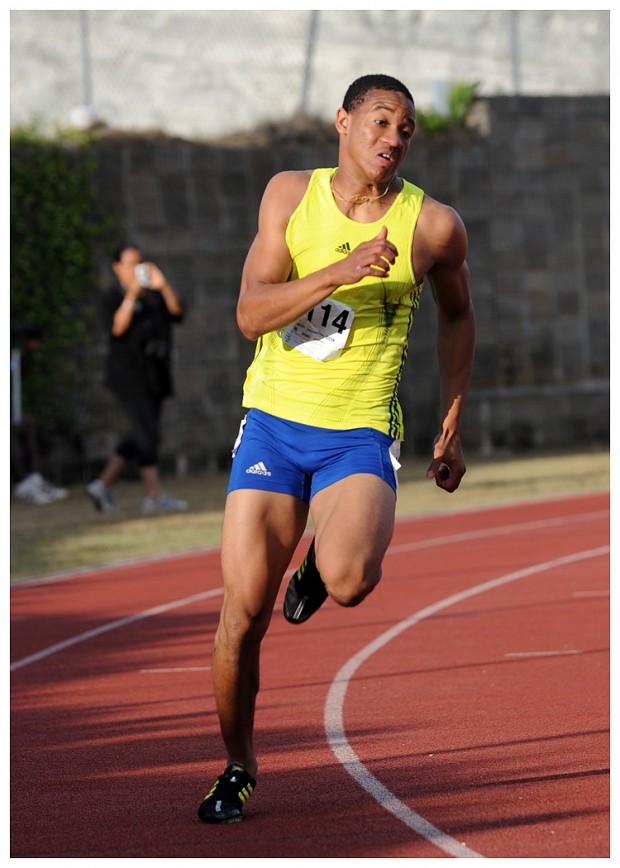 Jeneko [pictured above as the recent Bermuda National Championships] wasn't the only young athlete to advance to the finals, with Bermuda also fielding a female sprinter in the 100 metre finals. Victoria Clarke finished 4th in her heat to advance, putting on a stellar performance running the distance in 12.36, a personal best for her. Both Victoria and Jeneko are in the under 17 age category.
Update July 3: Victoria Clark finished 7th in the 100 metres
Also competing today were Scott Clarke in the 100m who finished 11th overall with a time of 11.29 and Jer-Quan Symonds in the 100 meters who finished 21st in 11.63 to finish 21st. Jer'Quan also competed in long jump finishing 13th with a leap of 6.10m.
Bermuda is represented in Santo Domingo by 18 of our top young track and field stars. Over 30 countries compete in the CAC Games.
The competition started today, and is due to finish on Sunday, July 4.
Update July 3: Full results from Day 1 below, click 'full screen' for greater clarity:
Read More About