At the opening of the Breastfed Baby Photo Exhibit last night [Aug 13] Health Minister Walter Roban told the audience the exhibition celebrates children, families and art, but also generates excitement around ways to improve health and wellness of families. "This event draws attention to what is possible when we do what is right for our children. These babies represent the promise of the future. These pictures show what happens when we do what comes naturally, in more ways than one."
Pictured below is Kristen Loving (left) and her son, Aeziah, 10 months and Shantae Burrows (right), and her daughter Azae, seven months with Minister Roban, JP, MP as he opened the Breastfed Baby Photo Exhibit at the Bermuda Society of Arts, City Hall: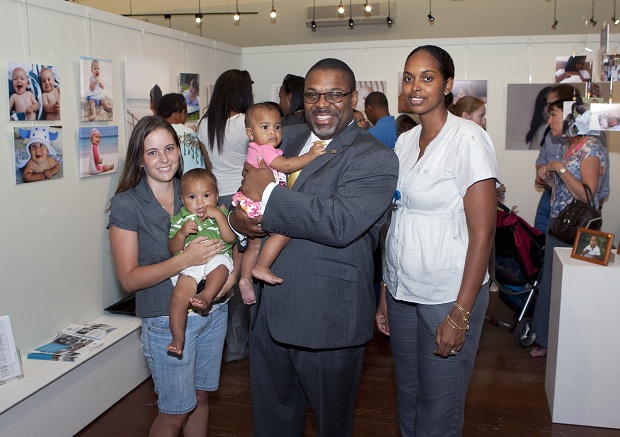 The Minister highlighted the Government's strong commitment to improving the health and well- being of Bermuda's residents. "Our National Health Promotion Strategy calls for a "Well Bermuda" and encourages collaboration with community partners and stakeholders to further this goal. Therefore, I am pleased to open the first-ever Breastfed Baby Photo Exhibit." Minister Roban added, "Once you see these pictures you would agree, that if this is not good promotion on the benefits of breastfeeding, then what is?"
The Breastfed Baby Photo Exhibit was launched in October 2009 and families were invited to submit photos of their breastfed babies in honour of World Breastfeeding Month.
Chief Medical Officer, Dr. Cheryl Peek-Ball said the exhibit represents a community that is bursting with enthusiasm and commitment to the goal of enabling moms to breastfeed their babies. "Breastfeeding provides vital immunities to babies, lowers cancer risks for mothers, reduces healthcare costs for communities, provides financial savings for families and has a positive impact on the environment," she said. "There are enormous health advantages and economic benefits to breastfeeding which make it not so much a "choice" but a "right". Dr. Peek-Ball added that all babies deserved the very best start in life and the benefits of exclusive breastfeeding for the first six months of life give them that. In this community we are clearly united in our desire to support mothers in their effort to afford their newborns the very best nutrition, the very best protection from illness and preventable death, and the very best chance at optimal growth and development."
Dr. Peek-Ball said that a set of Breastfeeding Guidelines for Bermuda are currently being created by a multi-disciplinary group of local health care professionals and lay breastfeeding counselors. The Guidelines will help to standardize the advice given to women in the early months of breastfeeding so that all advice is sound and consistent. Dr. Peek-0Ball applauded the businesses that do the right thing by humanely and sensitively providing women employees with adequate maternity leave and, when they return to the workplace, welcoming them with a private and hygienic area in which to express and store breast milk "It is our hope that these inspirational photos will motivate employers island-wide to support a woman's right to breastfeed," she said.
Minister Roban pointed out that the World Health Organization and healthcare professionals recommend that babies be breastfed for the first six months of life to promote optimal growth and development and to protect against illness. "Unfortunately, we know breastfeeding rates in Bermuda are very low. We hope this project has encouraged more mothers to give their babies a healthy beginning by breastfeeding. It takes a community to support and empower new mothers to nurse their newborns and each of us can make a valuable contribution."
La Leche League spokesperson, Mrs. Melony Kendell said La Leche League has been working in the community for over two decades, helping mothers who choose to nurse. "We want every pregnant woman and new mother to know that with proper support, information and encouragement, they can breastfeed." she said. Mrs. Kendell urged moms to ask for help if they are facing difficulties and she encouraged pregnant women to start learning about breastfeeding before they give birth. "The hospital's maternity team, government clinics, visiting health nurses and volunteers from La Leche League are all resources for women who are nursing."
KEMH Nurse Midwife, Hyancinth Emmanuel threw her support behind the importance of breastfeeding, saying that the hospital helps to deliver over 800 babies each year. "When a woman nurses immediately after giving birth, there is less risk of postpartum haemorrhage," she said. "In addition, milk production burns about 500 calories each day – the equivalent of swimming 30 laps in a pool or bicycling uphill for an hour every day!" Other medical benefits include reducing the risk of breast cancer, ovarian cancer, improving blood sugar control and establishing a good cholesterol profile which lowers the risk of heart problems.
Minister Roban thanked families who submitted their photographs for the exhibit. "Every baby displayed on these walls is a winner simply because they were fortunate enough to be given the greatest of gifts: good health and the best beginning in life. We must all remember that it's about family and what can be done to make them healthier and stronger for everyone," the Minister added.
Read More About