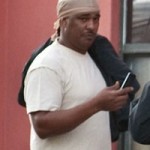 Heavy security could be seen as mourners gathered to pay their final respects to 47-year-old Troy "Yankee" Rawlins, who was laid to rest today [Aug 13]. Mr Rawlins, a well known figure on the Court Street scene, was murdered a few days ago while standing in the entrance of the Spinning Wheel nightclub on Court Street.
Approximately 15 uniformed Police officers were visible in the front, sides and back of the First Church of God on North Shore before the funeral began, with police vehicles also stationed in all three areas.
The scene was replicated at St John's Church where a strong Police presence was visible before and during the burial, with at least four Police vehicles and around a dozen Police officers present in and around the Pembroke graveyard.
This is the second time in recent months that a murder victim's funeral has had a strong Police presence, following the funeral on April 11th of 35-year-old Kimwandae Walker, who was murdered on Good Friday.
Read More About