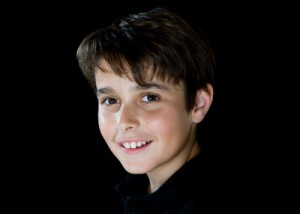 In addition to the expected appearances of Ziggy Marley, Angie Stone, Estelle and Toni Braxton at the Bermuda Music Festival, another star has been added to the line-up – Bermuda's own 11-year-old Malcolm Hollis.
Malcolm will take the stage on the same night as six-time Grammy award wining singer Toni Braxton, who herself is the mother of an autistic son and a spokesperson for 'Autism Speaks.'
The 11-year-old singer wowed last year's Festival crowd with his version of the Jackson Five's "I Want You Back". He also performed before legendary producer Quincy Jones and other stars at last October's premiere of the late Michael Jackson's movie, "This Is It" at the Liberty Theatre.
Members of the festival audience will each receive a special autism awareness bracelet. Toni Braxton, whose 7-year-old son Diezel was diagnosed with autism at age 2, has happily agreed to help promote autism awareness during her performance at the Bermuda Music Festival.
Autism inhibits a person's ability to communicate and develop social relationships, and is often accompanied by extreme behavioural challenges.  In the video below filmed for Autism Speaks, Ms Braxton compares the chances of many of her accomplishments to that of having a child with autism, and encourages people to learn the signs of autism:
In addition to the great news above, the producers have promised to make a minimum donation of $10,000. Kingdom Entertainment Group and Oxford Communications, the producers of the 2010 Bermuda Music Festival, have partnered with Bermuda Autism Support & Education (B.A.S.E.) also in an effort to help raise autism awareness in Bermuda. They will make a donation of $5 per ticket sold, with the minimum donation the companies will make being $10,000.
Ms. Braxton, who has sold more than 40 million albums, said:
I am delighted to use this opportunity to raise awareness of autism. Autism is the fastest-growing developmental disorder in the United States and I know from personal experience with my son Diezel the life-long consequences for individuals, family, and society.

In Bermuda more children every year are being diagnosed with autism and I look forward to meeting members of the autism community during my visit. All of us – parents, grandparents, aunts, uncles, teachers and family friends to children – must become familiar with the red flags for autism. The earlier children are diagnosed and early intervention begins, the better chance a child has of a brighter future.
Jenny Purvey, President of BASE, said:
We are delighted at the generous support offered by Kingdom Entertainment Group and Oxford Communications and we are absolutely thrilled that Toni Braxton has offered to help raise awareness of autism during her visit to Bermuda. As a national spokesperson for Autism Speaks, Ms. Braxton has been a committed and effective advocate in raising awareness and urging parents to learn the early warning signs of this developmental disorder, now diagnosed in one in every 110 children.

We encourage everybody in Bermuda to come out and not only enjoy a fantastic performance by a true superstar but help give back to our community. Funds received by BASE will go directly to assisting the autistic community in Bermuda.
Tickets for the concert at the Poinciana Ballroom at the Fairmont Southampton are $140 for reserved seating and $95 per person for general admission. The three-day general admission is $245. Tickets are available online from www.bdatix.com or from the iStore, 46 Reid Street, Hamilton, All Wrapped Up HOME, Washington Mall, Hamilton and Fabulous Fashions, Heron Bay Plaza, Southampton.
Read More About
Category: All, Entertainment, Music, News