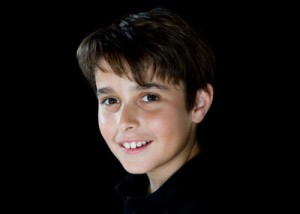 Significant interest was shown in 11-year-old Malcolm Hollis yesterday as a result of the news that he would be opening for, and possibly singing with, Grammy award winning singer Toni Braxton on the closing night of the Bermuda Music Festival.
In addition the young singer has released a music video as well as a sleek new website.
Malcolm's talent as a singer has only been recognized in the last two years. The son of Wendell and Margie Hollis, he was born in 1998 and on his second birthday his parents were concerned that he was not talking and showed signs of other developmental delays. As a result his mother took him to Miami Children's Hospital where he underwent a number of tests finishing with an MRI. As a result of the MRI he was diagnosed with Cortical Dysplasia however there was no long term prognosis at the time other than the possiblity that he may never be able to speak.
His parents did not accept this lying down and his mother immediately explored therapy opportunities for Malcolm in Miami. Shortly thereafter, the family moved to Miami and Malcolm attended five hours of therapy a day for 18 months until he reached the point where he was on par with typical children his age and he commenced nursery school in Bermuda.
Since then his family says he has always worked very hard to be the best that can be. His family say they have "always attempted to help him with his weaknesses and nurtured his strengths, thereby acknowledging that he is no more and less than a child with strengths and weaknesses, as is the case with most children. The difference with Malcolm is that some of his weaknesses are more pronounced but, equally, his gifts are significant!" Therefore, the family have chosen not to limit him with any labels and rather have dealt with the issues as they have presented during his development.
In playing to Malcolm's strengths, his family discovered his talent for music. At the age of six, he commenced percussion lessons and then migrated to trombone before focussing on voice. Malcolm's vocal talents were discovered by Mr. Granville Oldham, who was at the time, teaching at Cedarbridge and conducting the Chamber Singers there. Malcolm started lessons with Mr. Oldham, specifically concentrating on classical music and it was then that he discovered Malcolm had the gift of 'perfect or absolute pitch.' In his lessons he often expressed interest in other genres such as R&B, pop, jazz and musical theatre. It was soon discovered that he had amazing vocal tone, superb intonation and a great ability to imitate sophisticated styles and interpretations. Like any other young person, he enjoys contemporary music but at the same time enjoys the music of artists like Luther Vandross, Michael Buble, Al Jareau, Josh Groban, Peter Cetera, Michael Jackson and many others. His renditions of these various types of music can be seen on his website
He has continued to work closely with Mr. Oldham, and has recorded a number of songs with Mr. John Woolridge. It was Mr. Woolridge who produced Malcolm's first music video being Malcolm's version of Louis Armstrong's "It's a Wonderful World" which recently debuted online:
The 11-year-old singer is looking forward to performing in the festival and perhaps even with Toni Braxton, herself. He will be flying home for the week to prepare and to perform. Visit Malcolm's website Malcolmsmusic.com for further information.
Read More About
Category: All, Entertainment, Music, Videos