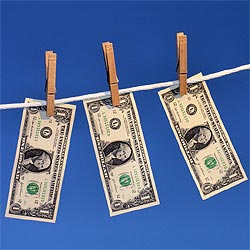 The Bermuda Monetary Authority (BMA) has scheduled a series of awareness sessions on Bermuda's Anti-Money Laundering regulations targeting the island's various financial industry sectors.
The seminars are designed to educate firms within the island's financial services industry about their legal obligations under Bermuda's new anti-money laundering / anti-terrorism financing (AML/ATF) laws, and assist them to ensure they are fully compliant.
Bermuda's AML/ATF provisions were upgraded when a suite of legislation was passed by Parliament in 2008. One of the laws within the suite of legislation, the Proceeds of Crime (Anti-Money Laundering and Anti-Terrorist Financing) Regulations 2008, provided the Authority with powers to monitor financial firms' compliance with the new regulations. It also facilitates the Authority taking enforcement action in relation to firms that are non-compliant.
Thomas Galloway, senior counsel and head of the Authority's AML Compliance Unit, said: "Monitoring firms' compliance with the jurisdiction's AML provisions is a key component of the Authority's supervisory programme. In order to ensure that high standards are maintained in the Bermuda marketplace we are offering this series of information sessions to assist firms with being fully aware of and understanding their obligations under the new rules."
The sessions will cover such items as: AML legislative changes; a brief explanation of the Authority's supervisory programme; customer due diligence; and reliance on third parties.
In addition, there will be a question and answer period to address topics and questions submitted by participants.
The BMA will conduct three seminars, each targeting a particular sector of the financial industry. The schedule is:
Tuesday, October 26 – Investment Funds / Fund Administrators
Tuesday, November 23 – Trust service providers
Tuesday, December 7 – Investment businesses
The Authority invites representatives from firms in the various sectors listed to attend the sessions.
Interested parties should RVSP by sending an email to aml@bma.bm. Anyone wishing to submit questions for the sessions should do so in writing using the same email address.
Read More About