[Written by Dr Katherine Michelmore, Deputy Leader and Spokesperson for BDA on the Environment]
I note with concern that Mr. Belcario Thomas has resubmitted an application to build a beach bar at Warwick Long Bay. The history of this business venture is now well documented, it being over 2 years since the original application was submitted in April 2008.
The original plan was turned down by the Department of Planning when over 100 local residents objected, but was granted on Appeal to the Minister Glen Blakeney. This led to a widespread public action campaign to express the desire to protect Warwick Long Bay from commercial development, and a petition with thousands of signatures was presented to Government. As is unfortunately frequently the case in Bermuda, the public appeal fell on deaf ears, and it was necessary for the Bermuda Environmental Sustainability Taskforce to take the matter to court to appeal the unreasonableness of the Minister's decision.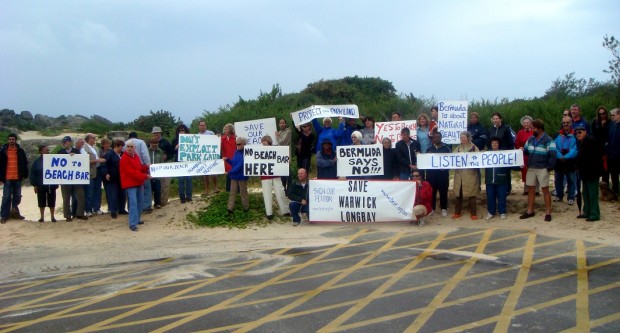 The courts found in favour of BEST's case and ruled against the Minister's decision. This took considerable time, effort, and cost on the part of BEST, and also was at the taxpayers expense on the part of the Government.
To read of a new application published in the Bermuda Sun today does speak perhaps to blind determination on the part of Mr. Thomas, but also to a Government who is blatantly prepared to dismiss public concerns. This re-application indicates that Mr. Thomas has again been granted permission to use public land. No details regarding any tendering process or any details of the lease under which these arrangements have been made have been publicly disclosed. There has been no public comment from the Government with regard to the fact that the National Parks Commission objected to the original application, and the Minister decided to over-ride their objections. There has also been no public comment from the Government as to the intention for a bar to be opened within a public park, when the Liquor Licence Act specifically prohibits this.
Warwick Long Bay is an unspoilt National Park and as such is a National Treasure. It deserves to be protected, and any development must be subject to public discussion, due process, and absolute transparency on the part of the Government. I fear that this was sorely lacking during the first application. I intend to review the application at the Department of Planning and encourage other residents to do the same.
Read More About
Category: All, Environment