Perfect sailing weather dominated three spectacular days of racing almost as consistently as a number of German sailors did on the water this past weekend. 34 sailors were tested over 15 races with winds ranging from 4 knots to 18 knots over the 3 days. 16 overseas sailors from Germany, Switzerland, USA and Canada joined the local fleet for the Open Championship, hosted by the Royal Hamilton Amateur Dinghy Club (RHADC) Nov 12 – 14.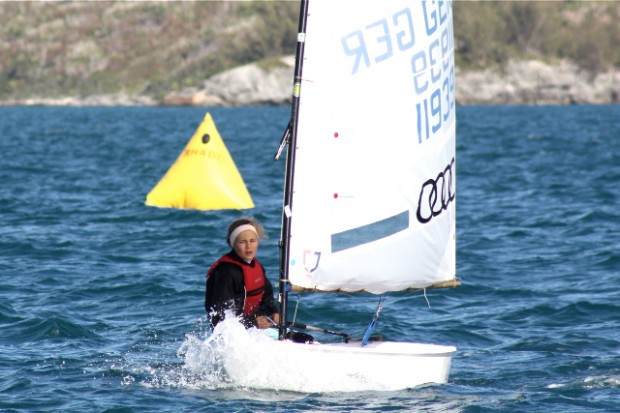 13 year old German female Gesa Bornrmann [pictured above] never let her guard down, leading all 3 days with consistent top 5 finishes and took home the PWC Open Championship title, the Gold Fleet title as well as the Top Female prize. Not far behind was German countrywoman Mauriel-Natalie Schroder.
Pictured below from left to right: 3rd Sam Stan(BER), 2nd Mauriel Schroder (GER), 1st Gesa Bornrmann (GER)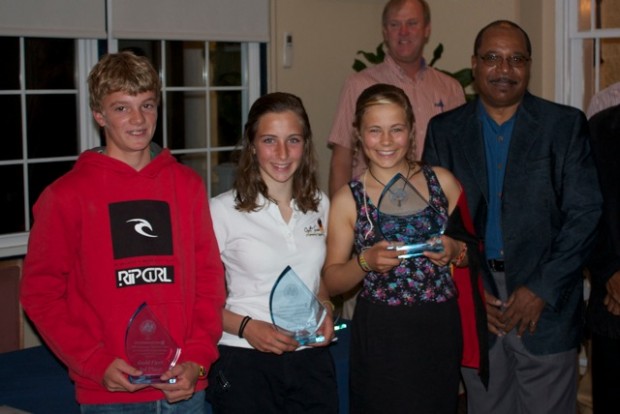 In 3rd place was local ace and 2009 Bermuda National Champion Sam Stan who won 4 of the 15 races and progressively stepped up his game to challenge the Germans over the course of the regatta. Stan wowed the local spectators by convincingly winning the final 2 races in the blustery 18 knot breeze on Sunday. The top five places were rounded out by Marvin Firsch, current German National Champion in 4th and top Bermuda female Ellie Wollmann the 5th spot. BODA president Anthony Bailey was "thankful for the excellent and varied sailing conditions over the three days and was impressed with the level of sailing he saw on the race course". Bailey thanked the sailors, sponsors, families and many volunteers for their "fantastic effort".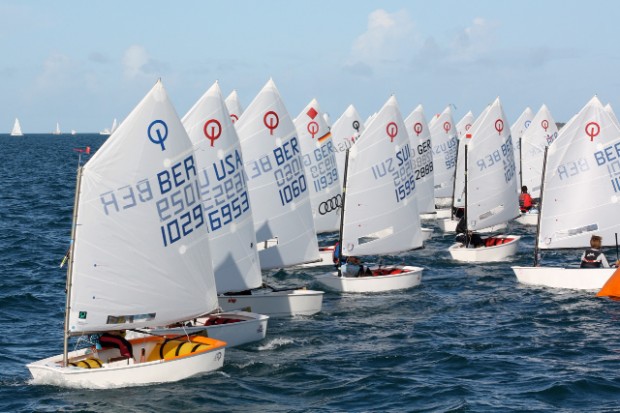 On the Green Fleet course in Hamilton Harbour for the younger and less experienced racers, Matilda Nicholls won by a narrow margin over Joe Arrowsmith and Lily Barboza. New sailor Kieran Swann was awarded the first annual Peter Mitchell Sportsmanship Award for his consistent display of positive support of his fellow sailors. Green Fleet guru Tom Coleman, who led the fun intro-to-racing weekend at the Royal Bermuda Yacht Club, was encouraged by the high standard of sailing and boat handling he witnessed.
Pictured below: Jessie Mitchell presents the first annual Peter Mitchell Sportsmanship award to Kieran Swann with Minister Blakeney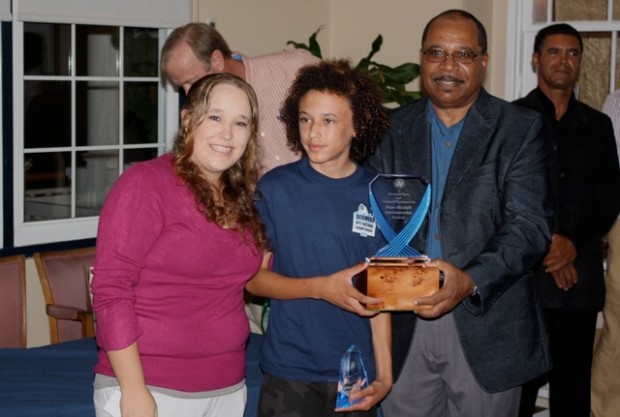 Awards were handed out Sunday evening by The Hon. Glenn Blakeney J.P., M.P., Minister of Youth, Families, Sports and Community Development. The Minister surprised the crowd when he publicly endorsed his support behind making Sailing a National Sport, a remark met by thunderous applause. The Minister is pictured below with 2010 Bermuda National Optimist Champion, Bermuda's own Sam Stan.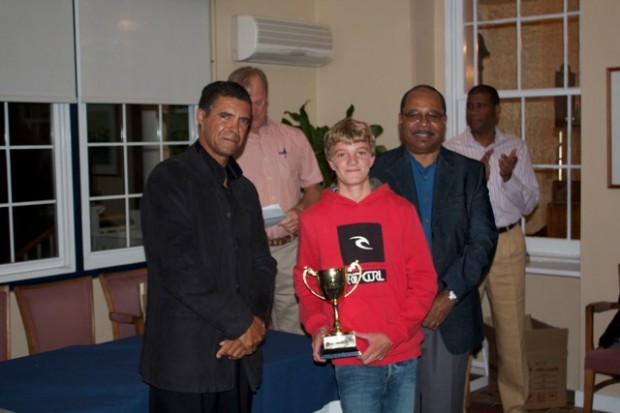 Awards for the PriceWaterhouseCoopers 2010 Bermuda Open and National Optimist Championships:
Green Fleet
1st Matilda Nichols (BER)
2nd Joe Arrowsmith (BER) sailing
3rd Lilly Barboza (BER)
Silver Fleet
1st Gabrielle Rizika (USA)
2nd Christopher Hartnagel (USA)
3rd Hanna Horsfield (BER)
Gold Fleet
1st Gesa Bornrmann (GER)
2nd Mauriel-Natalie Schroder (GER)
3rd Sam Stan (BER)
Top Female – Gesa Bornrmann (GER)
Peter Mitchell Sportsmanship Award – Keiran Swann (BER)
Open Champion- Gesa Bornrmann (GER)
Bermuda National Champion – Sam Stan (BER)
Full results at www.boda.bmthe
Read More About