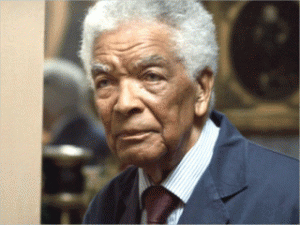 A British businessman has decided legendary Bermudian actor Earl Cameron is long overdue for his close-up — and is raising funds for a feature-length documentary about the trailblazing performer who broke the colour bar for black entertainers in UK film and television.
Born in Pembroke, Mr. Cameron, 93, moved to Britain prior to World War Two and after a career on London's West End stage made his film debut in the well-received thriller "Pool of London" in 1950 — becoming the first black actor to star in a British movie.
"It was ostensibly a diamond-heist caper, heightened by the documentary authenticity of its location photography," says the British Film Institute of the stereotype-shattering "Pool of London" role which set the keynote for his long career. "One of the first British films to deal with mixed-race romance, it also placed Cameron's Johnny at its moral centre, his performance the most naturalistic amongst the ensemble of deceivers, crooks and cheats. The film was a hit, as was Cameron. Earl Cameron brought a breath of fresh air to the British film industry's stuffy depictions of race relations. Often cast as a sensitive outsider, Mr Cameron gave his characters a grace and moral authority that often surpassed the films' liberal agendas."
During a busy career in the 1950s and '60s, Mr. Cameron appeared in dozens of films and episodic TV shows, landing important roles in the James Bond blockbuster "Thunderball" (1965) and Sidney Poitier's freshman directorial effort "A Warm December" (1973). A friend and frequent collaborator of actor/writer Patrick McGoohan, he made a number of appearances in that TV star's cult 1960s series "Danger Man" and "The Prisoner".
Now living near Birmingham, England, Mr. Cameron continues to work regularly, most recently appearing alongside Dame Helen Mirren in her Oscar-winning performance in "The Queen" (2006) and Leonardo DiCaprio in this summer's science fiction blockbuster "Inception".
And a British businessman now hopes to raise up to £400,000 to finance a feature-length documentary about the life and times of the celebrated Bermudian actor. "I was amazed to hear the story of his life and to see how young black people looked up to him with such reverence," Ken Meeson, a senior manager with a leading recycling business, recently told a British newspaper. "Getting to know Earl and his work in depth has been enlightening and captivating.
"Earl is the personification of graciousness and a film about his life and work should be made as soon as possible while he is still young enough and active enough to participate himself. My only reason for helping Earl is just that, I want to help him. I feel his story is not only interesting but will be seen by many, old, young, black or white as what you can do with your life if you persevere and continue to give it your best. "I hope that young people across the world will be able to learn about Earl's work through the film."
A writer and producer/director have already been recruited for the project. Mr. Meeson said a full-length documentary, possibly narrated by his longtime friend and fellow black cinematic pioneer Sidney Poitier, would cost anywhere between £50,000 and £400,000.
Mr. Cameron was appointed a Commander of the British Empire in the Queens 2009 New Year Honours List. In 2007 the Bermuda International Film Festival presented him with its Prospero Award for lifetime achievement in cinema.
Read More About
Category: All, Entertainment, Films/Movies, News