This morning [Nov 14] the East End honoured Bermuda's war veterans with a Wreath-Laying ceremony in St George's, which was followed by a Remembrance Ceremony at St Peter's Church.
Wreaths were laid [video] by dignitaries in attendance including Her Royal Highness the Duchess of Gloucester, Premier Paula Cox, St George's Mayor Kenny Bascome, Opposition Leader Kim.Swan, the Chairman of the Bermuda Royal Artillery Association Neil Paynter, Bermuda Regiment Commanding Officer Lt. Col. Brian Gonzalves and more.
Also in attendance were US Consul General Grace Shelton, St. George MP Ms. Lovita Foggo, Deputy Premier Derrick Burgess, St George's MP Minister Dame Jennifer Smith and Vicar of St. Peter's Church Rev. David Raths.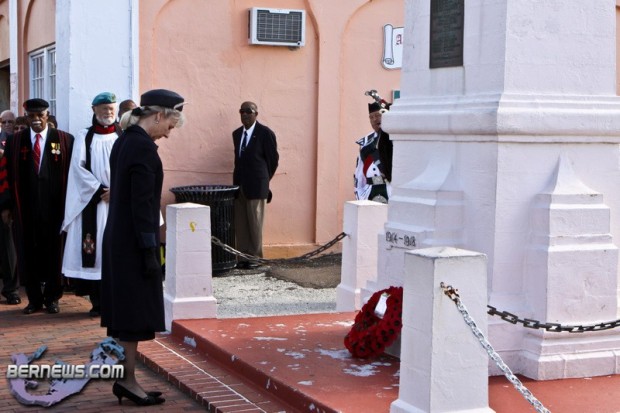 Taking part in the parade were members of the Bermuda branch of the Royal Artillery Association, representatives of the Town of St George's, Sea Cadets and a bugler from the Bermuda Regiment.
The Church Service that followed afterwards included readings from Her Royal Highness, RAA Chairman Neil Paynter, and Premier Cox who read part of Psalm 121. RAA Vice-Chairman Melvyn Gibbons gave the now traditional Veteran's invocation "We will remember them."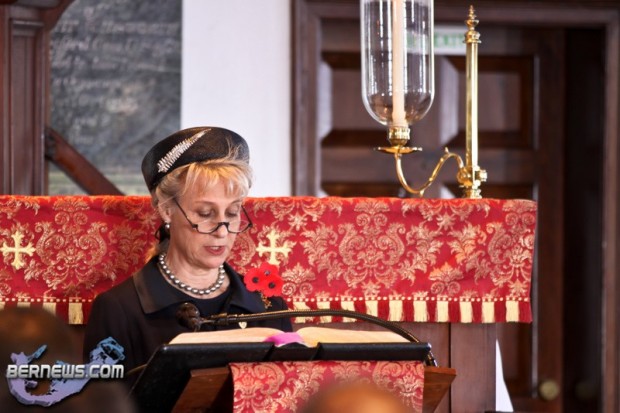 After the Church Service, Her Royal Highness alongside Governor Sir Richard Gozney and others, visted St Peter's graveyard to pay their respects to Governor Sir Richard Sharples, and Captain Hugh Sayers, the Governor's Aide-de-Camp. Premier Cox had departed earlier on her way to LF Wade International to start an official trip abroad.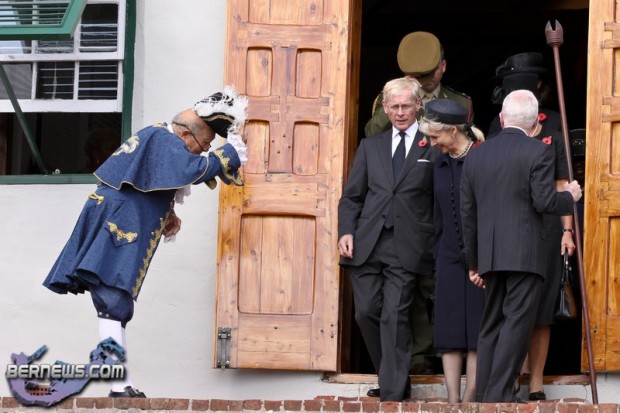 "The St. George community came out this morning to pay homage to those who had sacrificed and who were no longer here. Along with the pomp and pageantry of the occasion, was a quiet dignity that added elegance and stateliness to the ceremony," the Premier said.
Following the church service, the Duchess visited the St. George's Town Hall and then lunched with guests at Tom Moore's Tavern.
You can view the same photos in slideshow format here, additional coverage of Remembrance Day here, and additional photo galleries of events in St George's here.
Photos by Only the Best, click to enlarge:
During her trip to Bermuda, which ends today, she met with some of the Bermuda Football Association's National Academy players and local football legend Clyde Best at the BFA Field in Prospect, planted a tree at Warwick Camp, presented the Bermuda Regiment with new Colours during a ceremony at the National Sports Center, went on a water tour with the Bermuda Regiment boat troop and more.
[Updated with additional info at 6:35pm]
Read More About