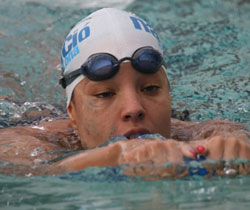 One of the island's top swimmers has proved herself again, as Kiera.Aitken won a silver medal and set a new Bermuda record at the Spanish National Swimming Championships held yesterday [Dec 5].
Ms. Aitken won a Silver Medal in the 50m backstroke finishing in 28:41, and in addition she set a brand new Bermuda National Record in the 200m freestyle finishing in a time of 2:02.14.
This time broke the old Bermuda record of 2:03.48, which she herself set back on December 19th in Madrid, Spain.
One of Bermuda's most successful swimmers, Ms Aitken has represented Bermuda in numerous international events; Commonwealth Games, World Championships, Pan American Games and the 2004 and 2008 Olympics. She is the first Bermudian female to break the one minute mark in the 100 metres backstroke, and holds a number of Bermuda national records.
Read More About