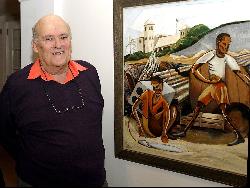 A Bermudian alumnus of New Brunswick's Mount Allison university has made a fine art out of quietly donating to his alma mater – allowing the campus gallery to become the best of its kind in Canada, according to a Maritimes newspaper today [Jan 1].
Former Cabinet Minister and accomplished Bermudian artist Robert Barritt — a 1950 Mount Allison graduate — has contributed to the Robert Owens Art Gallery in recent years. His generosity is cited by the "Telegraph-Journal" as being instrumental in helping  the country's first university gallery regain its preeminent position as "by far the best gallery of its sort in Canada, and maybe the best gallery, period."
Mr. Barritt, also a generous donor to Bermuda charities, was born in 1927 and educated Mount St. Agnes and Saltus. He served as Bermuda's Minister of Community & Cultural Affairs between 1986 and 1989.
He spent four years at Mount Allison, where he was awarded the school's mural decoration award in 1949 and 1950, the same year he graduated.
"After returning to the island he exhibited frequently during the 1950s and 1960s," said a Bermuda National Gallery profile published in conjunction with a major 2005 retrospective of Mr. Barritt's artwork. "More significantly,he ventured beneath Bermuda's postcard-perfect surface,where few Bermudians, and possibly none of his white contemporaries, dared go. Barritt painted people, blacks and whites, and demonstrated a willingness to capture theisland's social and political imperfections on canvas."
"Bermuda's art scene being as small as it was, it was inevitable that Barritt and Charles Lloyd Tucker would cross paths. They were among the founding members of the Bermuda Society of Arts, which was formed in 1956 by a group of artists who were disenchanted with the Bermuda Art Association. Even though Barritt was younger and Tucker was black, the two became close friends. 'We could talk about anything. He used to tell so many funny stories, you know about the black-white situation. Charles and I used to discuss everything in politics at that time. We both had been approached when party politics started. He had been asked to run by both parties. Likewise, a lot of people thought I was going to run for the Progressive Labour Party' …"
In 2008 the Friends of the Owens Art Gallery and the students of Marshview Middle School in Sackville, New Brunswick celebrated the gallery's programme of education and community outreach and held a reception to publicly thank Mr. Barritt for the funding he provided to support this initiative.
The programme offers programmes to schoolchildren through tours, workshops and special collaborative projects, allowing the gallery and Mount Allison to forge relationships with the wider community through a series of Family Sundays and other events, all made available free of charge.
The gallery's membership of Friends of the Owens are now building on Mr. Barritt's generosity, by directing all fundraising efforts towards building an endowment fund to sustain this programme.
"Mr. Barritt's belief in the value of providing the community with access to art and artists has laid the foundation for this important work," said the university at the time.
Read More About