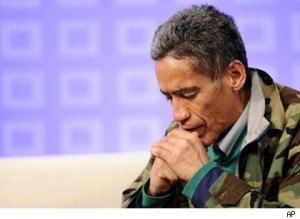 A homeless man from Ohio whose "golden voice" made him an internet phenomenon and earned him an invite to Bermuda, is headed to rehab for alcohol dependency, and was briefly detained by the Police in Los Angeles.
Ted Williams agreed to enter a private facility after a lengthy one-on-one interview with Dr. Phil McGraw, reports say. News reports say that Mr Williams has been drinking steadily, despite saying otherwise.
This past Monday saw a disturbance at a Los Angeles hotel where Police briefly detained Mr Williams and his daughter after a heated argument. Family members said the dispute was over Mr Williams resuming drinking.
AOL reports that: "He said, 'You, you fat [expletive],' and when he said that, I just got angry," according to his daughter Janey Williams, who claims that her father has been drinking heavily. "He's consumed at least a bottle of Grey Goose a night, at least. That's not including the Coronas he orders, that's not including Budweisers he orders, that's not including the other alcohol, the wines."
Police decided not to file any charges against either of the two after investigating Monday night's incident, which occurred while Ted Williams was in town to record TV appearances.
Mr. Williams appeared on NBC's popular morning programme the Today show on January 6, and in his account of his life and struggles, he highlighted that one of his fondest memories was visiting Bermuda in the 1970s. The day after, Tourism Minister Patrice Minors said that moments after Mr. Williams' appearance on the Today show, the Bermuda Department of Tourism's New York representatives had contacted him with a view to extending an invitation for him to visit Bermuda.
The decision to invite Mr Williams was much discussed locally, with many in support and many against.
Read More About