[Written by Stephen Wright]
Bermudian Jason Rhind has shared a detailed update from Ukraine as he continues to carry out humanitarian work for various organisations and foundations in the war-torn country.
The former Royal Bermuda Regiment soldier has been volunteering in Ukraine since May, initially lending his support and expertise to Tasking Force Yankee: Ukraine, a United-States-based aid group, transporting and delivering essential medical supplies.
Since applying for a one-year residency to continue helping meet the needs of the Ukrainian people, who have been badly affected following Russia's invasion in February, Mr Rhind has been delivering medical supplies to various Ukrainian cities and working at a military training school in the capital Kyiv.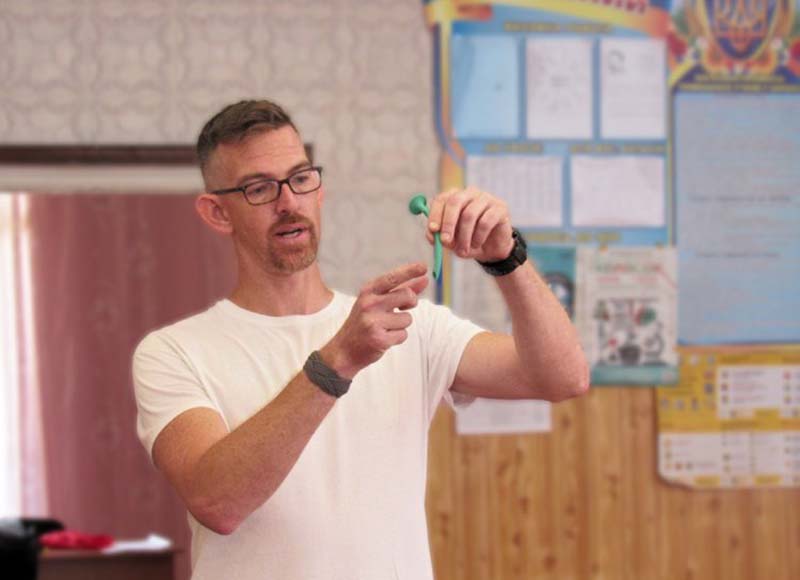 "About seven weeks ago, I left the organisation I had originally been working with, Task Force Yankee," Mr Rhind told Bernews.
"I've largely been doing my own thing, working with a few different Ukrainian organisations and foundations."
Among the organisations and foundations, Mr Rhind has been assisting is BeeUkrainian, which is run by a Ukrainian couple, delivering medical training to military and civilian groups. The organisation also raises funds to supply protective equipment such as armoured vests, helmets and first-aid kits for soldiers stationed at the front line.
"The wife is a doctor, and the husband works in marketing but also serves as a medic in the Territorial Defence Force," Mr Rhind said.
"They do this in addition to their daily nine to five jobs, as a way to help, support, and empower Ukraine and Ukrainians."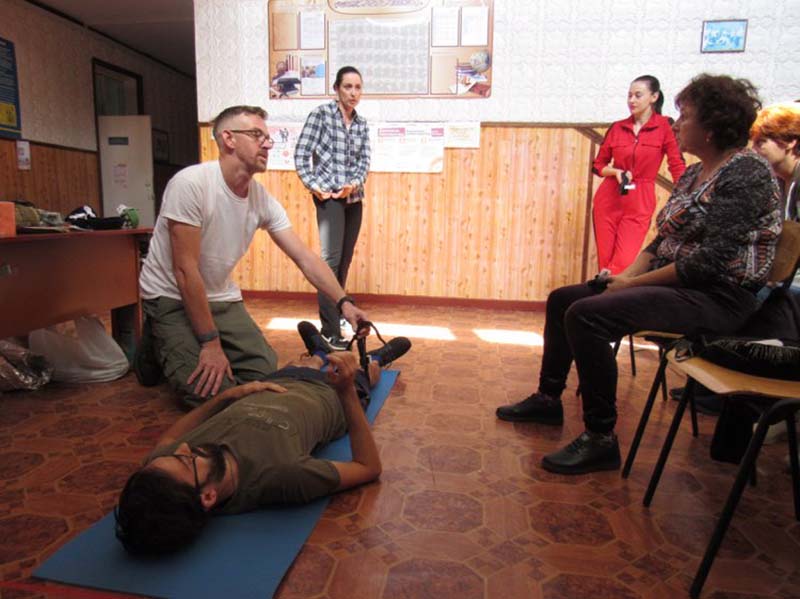 During weekdays, Mr Rhind helps out at a military training school in Kyiv, teaching a course on Trauma and Combat Casualty Care to the Ukrainian Army and Territorial Defence Force before heading to Mykolaiv, about 175 miles south of Kyiv, volunteering each weekend at a foundation called Heroes Ukraine.
"I've just completed the first day of a TCCC course with soldiers in Kyiv," Mr Rhind said. "Some of the soldiers have been at the front fighting and return to the front upon completing the course.
"Typically, after finishing the medical course in Kyiv, I travel to Mykolaiv to do training there on weekends. Heroes Ukraine has a number of projects working to provide equipment for the military such as drones, thermal vision devices, protective equipment, and IFAKs [individual first-aid kits], as well as helping to provide medical and humanitarian aid and medical training," he added.
Mr Rhind, who has described his time in Ukraine as among the most challenging and rewarding experiences of his life, also shared an account of the heart-wrenching realities of Russia's invasion of Ukraine.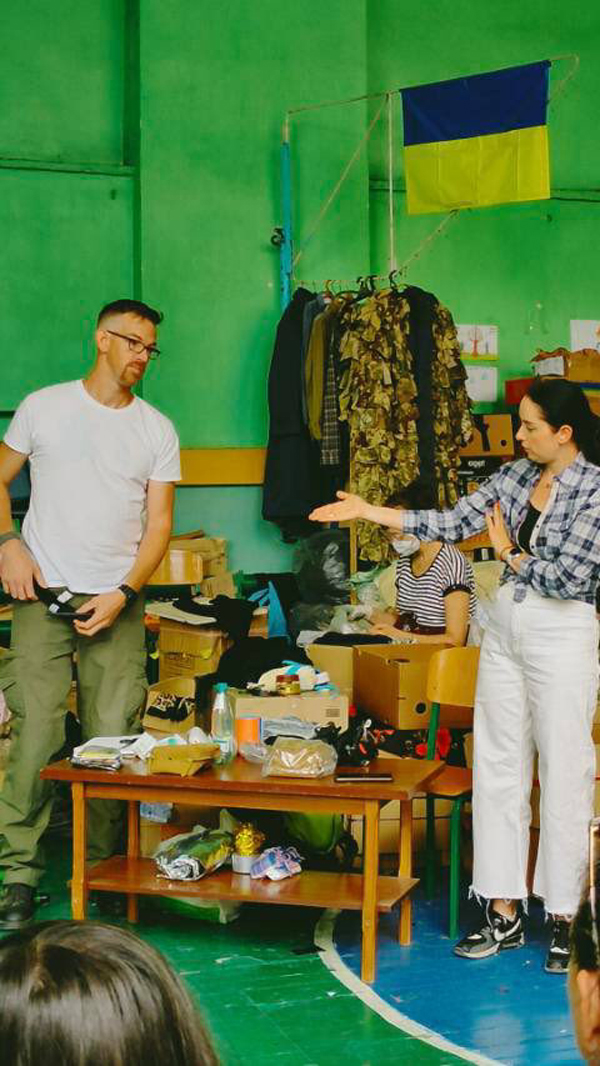 "Mykolaiv is a very different experience from Kyiv," said Mr Rhind, who left the regiment as a Lance Corporal in 2018.
"The war has been going on for about 200-plus days now. They've had about 27 days where there has not been a missile, artillery, or bombing attack on the city.
"Many people from the city have fled. It's typical to have no running water during the day, only in the evening. When you do have running water, it's not suitable to drink, and by Bermudian standards, it wouldn't even be considered suitable to bathe.
"I only have to experience this on the weekend, but for the people in Mykolaiv, it's their reality. The windows of buildings are mostly all boarded up, and the windows that don't have paper covering them so you can't see inside."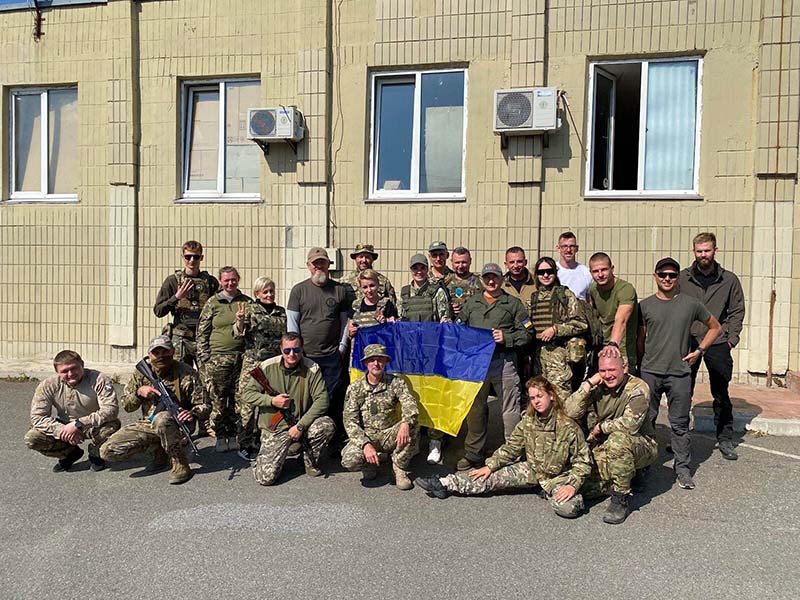 He continued: "At night there's a blackout order in effect – so nothing is lit up, and it's pitch-black outside. There have been missile attacks each day that I've been there.
"You get an idea from the sound of how close the explosions are. When they're close, you can feel the explosions, the building shakes, and the doors and windows rattle.
"The day after that Saturday, I drove past four places near where I stay hit by missiles – an apartment building, a university building, a street outside of a hospital, and a street in a residential area. It seems they fire rockets indiscriminately."
The 36-year-old also offered an example of the heroism and self-sacrifice of ordinary Ukrainians who have come together to assist the war effort in various ways.
"One of the classes I taught in Mykolaiv was at a school," he added. "In the school gymnasium, women of all ages along with men too old to serve in the military are making supplies for the military.
"[They] weave camouflage netting for trenches, block posts, and to go over the top of vehicles. They make homemade ghillie suits for snipers, mattresses for soldiers in the trenches to sleep on, and warm clothing."
Read More About