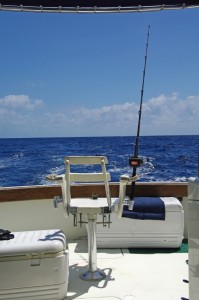 The Department of Environmental Protection last week hosted fishermen at the Blue Waters Anglers Club for a presentation entitled, "Managing Recreational Fishing".
Senior Marine Resources Officer at the Department of Environmental Protection Dr. Tammy Trott, who addressed the room of more than a dozen fishermen at the talk on Wednesday, explained that a common feature of recreational fisheries is the skewed distribution of fishing effort and catch between fishers.
Dr. Trott said: "At one end of the catch and effort scale, large numbers of fishers do relatively little fishing and catch few fish. At the other end, a high proportion of the fishing effort and catch is attributed to relatively few fishers. Thus, while recreational fishing for most people involves dropping a line overboard occasionally, and hopefully taking home a few fish, a small percentage of recreational fishers can have a significant impact."
A preliminary survey carried out in Bermuda recently suggests the 30% of households have at least one person who fishes. Although there is little information on recreational fishing practices in Bermuda today, Government researchers say it seems likely that these practices are quite different from those of even 20 years ago.
Dr. Trott said: "For one thing, the composition of the local population has changed dramatically over the past 15 years along with the demand for a greater variety of skill-sets in the workforce. Guest workers from other cultures frequently have differing attitudes towards the use of natural resources, yet there is no provision for this in the current regulations or in the existing outreach programs.
"Some of these people are fishing from shore and taking undersized and juvenile fish and targeting species that are not traditionally taken by locals. These activities could cause significant declines in our fish populations and this was one of the primary concerns among the local fishing population I addressed this week."
Dr. Trott added: "There was also a question at the presentation about the requirement in the new Fisheries Regulations regarding the landing of fish whole. The public needs to know that only the reef species with minimum sizes or bag limits (i.e. lane snapper, yellowtail snapper, red hind, hogfish, money rockfish and black rockfish) need to be landed whole. All other species (including tunas and Wahoo) need to be landed with the skin on but not whole. And those regulations hold true for both recreational and commercial fishers."
Dr. Trott explained that a detailed evaluation of all recreational fishing activities is required to facilitate proper management and reduce conflict with the commercial fishery and that a comprehensive survey of all non-commercial fishing and collecting activities will be conducted. The survey is expected to highlight discrepancies between the Fisheries Regulations and current recreational fishing practices. Regulations will then be revised accordingly.
"The Marine Resources Section is asking for the support of the public, particularly the recreational fishing sectors, in order to facilitate this survey," explained Dr. Trott. "Bermuda's marine resources belong to us all, and the sustainable management of the marine environment is everyone's responsibility."
Minister Roban said: "I am very pleased with the Department of Environmental Protection's continued public awareness efforts to educate the public on best fishing practices. By reaching out to local fishermen we can foster healthy discussion on how to further protect our precious fish stocks for future generations. Last week's presentation to the Blue Waters Anglers Club is a testament to their hard work in this regard."
Anyone interested in inviting Dr. Trott to give a presentation on recreational fishing can call 293-5600 x2225 or email ttrott@gov.bm
Read More About
Category: All, Environment