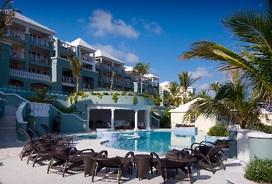 Following the Newstead Belmont Hills Golf Resort & Spa being placed in receivers' hands after the Bank of N.T. Butterfield & Son Ltd. called in a multi-million dollar loan, Premier Paula Cox said the paramount concern is for the hotel to be in a position to continue as a going concern.
Speaking on the Harbour Road tourism/residential property, the Premier said "This is an issue that has certainly gotten the Government's attention. Yesterday (Monday, January 17) I spoke to the Bermuda Industrial Union president and we had a constructive and frank exchange.
"The paramount concern is for the employees, and for the hotel to be in a position to continue as a going concern. From the discussions with the receiver, that is the intent and I was assured that redundancies are not being contemplated."
Tourism & Business Development Minister Patrice Minors echoed the Premier's sentiments, saying she was "cautiously optimistic"  an agreement could be reached which would satisfy the luxury property's creditors as well as its owners, operators and staff.
"This latest development regarding the Newstead property is regrettable," she said. "However despite its challenges, this does not diminish our confidence in Bermuda's strength and appeal as a premier visitor destination.
"I want to assure residents that we are monitoring the developments with the property very closely and are cautiously optimistic that some form of resolution can be reached which will benefit all concerned."
Receivers Ernst & Young have said operations at Newstead Belmont Hills will continue to run under their management of the receivers and they do not anticipate any immediate impact on the day-to-day operations of the businesses.
"The receivers will focus on reorganising and restructuring operations to facilitate business continuity with a view to a sale of the assets as a going concern," Ernst & Young said in a statement released yesterday.
Opened in 2008 as a luxury tourist property intended to complement the residential Belmont Hills apartment and golf development launched three years earlier, the 45-suite Newstead was Bermuda's most expensive, large-scale hotel opened in more than 30 years.
The respected Frommer's travel guide described Newstead as "posh, postmodern, boutiquey, and stylish, in a high-style urban-hip way that's actually rather unusual in understated and conservative Bermuda."
Newstead Belmont Hills is the second Bermuda hotel property to go into receivership in recent months. The Pink Beach Club was placed in receivers' hands in July, 2010.
Read More About