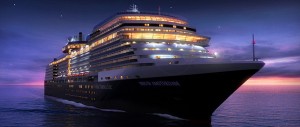 As has become a Holland America Line tradition, renowned Bermuda marine artist Captain Stephen Card has put his signature on "Nieuw Amsterdam IV", its 15th and newest vessel, with a series of works celebrating the new cruise ship and its predecessors.
The Bermudian artist, who hails from a seafaring background, has several paintings and line drawings on display in public areas aboard the 11-deck, 86,000-ton "Nieuw Amsterdam" [one of his works depicting the new ship is seen above]  which was launched last year.
"I grew up in Bermuda where you're never far from the ocean," Captain Card said recently, explaining his special affinity for Holland America ships. "I got to go on some of the ships when they came into port. The first time I saw 'Rotterdam V' was in May, 1965 [one of his depictions of the ship, which regularly called in Bermuda in the 1960s, appears below].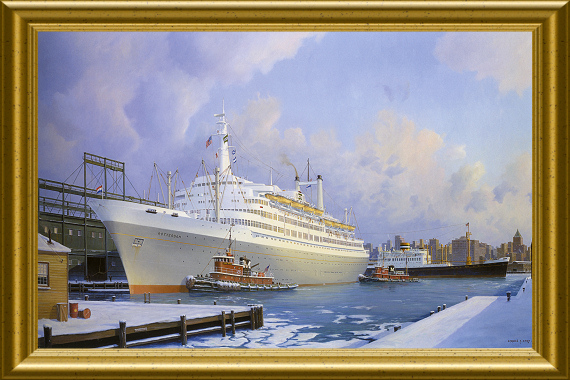 "I was a little kid when she came into Bermuda and I got to go aboard. I was enthralled and never forgot that first impression."
Captain Card embarked on a sea-going career in 1970 as a cadet with Denholm Ship Management, Ltd. He remained with the Scottish firm for 11 years, rising to the rank of Chief Officer. He then joined Uiterwyk Lines and was appointed Master.
In 1982, he came ashore in Bermuda to take up an appointment as Harbour Master, but in 1984 decided to develop his lifelong interest in painting and drawing and become a full-time marine artist.
Captain Stephen Card's association with Holland America Line began in 1984 when Nico van der Vorm, then chairman of the line, commissioned him to do paintings of the "Noordam III" and "Nieuw Amsterdam III".
Those two paintingss launched his career as a full-time artists. Since then he has painted every new Holland America Line ship which has come into servive and many of its great liners from the past.
Captain Card, who collaborated on a lavish coffee table book published by the Bermuda Martime Museum chronicling the history of the Furness-Withy ocean liner "Queen of Bermuda",  will be a special guest at a reunion of that ship's crew being held later this year.
Read More About