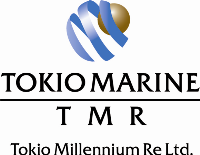 Bermuda-based Tokio Millennium Re Ltd., a subsidiary of Japan's Tokio Marine & Nichido Fire Insurance Co., Ltd., today [Mar.3] announced the Australian Prudential Regulation Authority [APRA] has authorised the firm's Australian branch to carry on insurance business in the country.
Tokio Millennium Re Ltd.'s Australia branch [TMRA] is an APRA-authorised general insurer and has been capitalised with $80 million of assets in Australia. The branch will produce property and casualty treaty opportunities emanating from Australia and New Zealand for TMR in Bermuda to underwrite. All Australian business underwritten by Tokio Millennium will be bound by TMRA in Australia.
Russell Brooke, managing director of the branch commented: "Establishing a branch in Sydney will allow us to work closely with our clients and their brokers. We will gain a better understanding of their needs, the opportunities available to us, and the associated risks involved."
"Australia and New Zealand, as a region, has recently suffered an unprecedented frequency and severity of losses. We believe that the timing of our approval to do business in Australia will be mutually beneficial."
Tokio Millennium president and CEO Tatsuhiko Hoshina added: "This is the next step in our stated goal of growing our international presence and providing greater capital efficiency for our parent company. I am delighted that we can add Sydney to our list of operations already established in Bermuda, London and Zurich."
Tokio Marine originally established Tokio Millennium in Bermuda in 2000 to act as a strategic risk diversifier for the Tokio Marine Group by writing P&C reinsurance business outside of Japan. Operating out of offices on Waterloo Lane, Pembroke the company has remained at the forefront of the reinsurance industry in Bermuda since its inception.
As a subsidiary of the Tokio Marine & Nichido Fire Insurance Co., Ltd., Japan's oldest and largest non-life insurance company, Tokio Millennium is primarily engaged in property and casualty reinsurance and market solutions products.
Earlier this week the Bermuda company announced it had been approved to operate in the Florida insurance market under modified collateral requirements.
Read More About