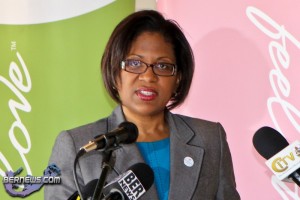 Business Development Minister Patrice K. Minors said yesterday [Apr. 20] Cabinet supported a 2010 report commissioned by the Finance Ministry regarding opportunities for Bermuda in the Islamic finance securities and investment funds sector as well as the re/insurance [takaful and retakaful] sector.
Minister Minors [pictured] stated the purpose of proposed reforms is to continue to ensure Bermuda-registered entities operate within a legal and regulatory framework that promotes growth and investment. Islamic finance — compliant with Sharia Law – has shown constant annual growth between 20 percent and 30 percent over the past ten years.
Currently, global Islamic finance assets are estimated at $1 trillion and are expected to rise to $4 trillion in the near future.
Bermuda has recently been attempting to position itself as an off-shore regional hub for Islamic finance. Earlier this week leading re/insurance trade journal "Reactions" said the island's special focus on takafal and re/takafal was a "clever play" on the island's part.
In 2010, Price Waterhouse Cooper [PWC] was commissioned to identify the key developmental drivers and to review potential impediments to being able to successfully market Bermuda as a jurisdiction for Islamic financial product offerings.
PWC concluded that the present financial sector framework offers the same advantages for Islamic financial products and institutions as it does for conventional products and that there were no major legislative or regulatory impediments to launching Islamic financial products in and from within Bermuda.
Minister Minors said that the policy making in the area of finance operates on many levels and no major decision is ever taken totally devoid of considerations about how it will affect the risk to Bermuda and our reputation as a centre of excellence.
To this end, the proposal has been vetted by the Bermuda Monetary Authority (BMA) accordingly.
Minister Minors said, "From Bermuda's perspective, this policy move presents unprecedented opportunities to us, as we can leverage on our strengths as a financial centre and maintain the same high regulatory standards.
"Our vision is for Bermuda to continue to be a leading provider of world-class services, to maintain this vision, we must reinvent, and reposition our established service industries to stay ahead, as well as develop new emerging products. This will enable us to create a dynamic and well-diversified services sector."
Read More About