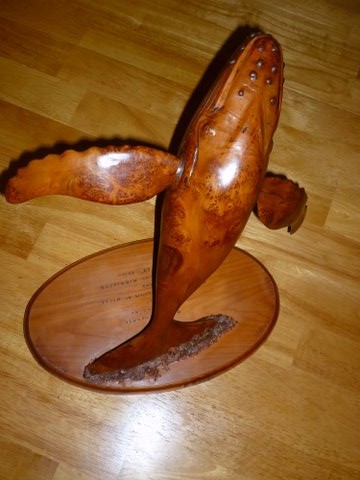 A  cedar humpback whale breaching off the shores of Bermuda carved by former Premier Dr. David Saul will be sold at the Royal Wedding High Tea silent auction to raise funds for Project Action.
A longtime cedar craftsman, Dr. David Saul has been producing carvings since he retired from politics more than 15 years ago. He has donated some his whale carvings to the Bermuda Underwater Exploration Institute [BUEI], which sells them to raise funds for summer scholarships for school children.
This particular carving will go under the hammer at a Project Action fundraiser being held to celebrate the wedding between Prince William and Kate Middleton.
Th event will take place in the Harbour Room, Fairmont Hamilton Princess on Friday, April 29 at 3pm. The taped wedding will be seen on large screens. Bermuda Premier Paula Cox and her husband were among the 1,900 guests invited to the ceremony being held at London's Westminster Abbey.
The carving depicts a young whale leaping out of the ocean with water dripping off its fluke as it soars into the air.
It is 12-inches tall and sits on a base of cedar that is 12-inches wide. The words: "To commemorate the wedding of HRH Prince William and Miss Catherine Middleton, April 29th, 2011″ are engraved on the base.
Project Action offers free bus service for seniors in private and Government-run homes. The charity also operates a bus  specially-equipped for wheelchairs and the ambulatory disabled.
It is estimated that 2,000 humpback whales pass Bermuda each year during their spring migrations. Early settlers hunted them for their oil, which was used for cooking, heating and lamps.
Read More About
Category: All