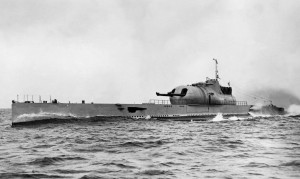 The giant Free French submarine "Surcouf" — which vanished after leaving Bermuda during World War Two [1939-45] and has long been the subject of controversy and conspiracy theories — is the subject of a lengthy report in the latest issue of a Nova Scotian naval journal.
"Bosun's Call", the Nova Scotia Naval Officers' Association newsletter, recounts the story of the ill-fated French Navy "corsair submarine" — at 361-feet in length, the largest ever built up to that time.
Named after an 18th century French pirate and launched in 1929, "Surcouf was designed as an "underwater cruiser" intended to seek and engage in surface combat as well as torpedoing enemy shipping while submerged.
For reconnaissance, she carried a Besson MB.411 observation floatplane in a hangar built abaft of the conning tower; for combat, she was armed with 12 torpedo tubes and twin eight-inch guns in a pressure-tight turret forward of the conning tower.
In theory the Besson observation plane could have been used to direct fire out to the guns' maximum range in these pre-radar days. Anti-aircraft cannon and machine guns were mounted on the top of the hangar.
Despite her impressive specifications, "Surcouf" proved to be plagued by mechanical problems: her trim was difficult to adjust during a dive, on the surface she rolled badly in rough seas, and she took over two minutes to dive to a depth of 40 feet, making her vulnerable to aircraft.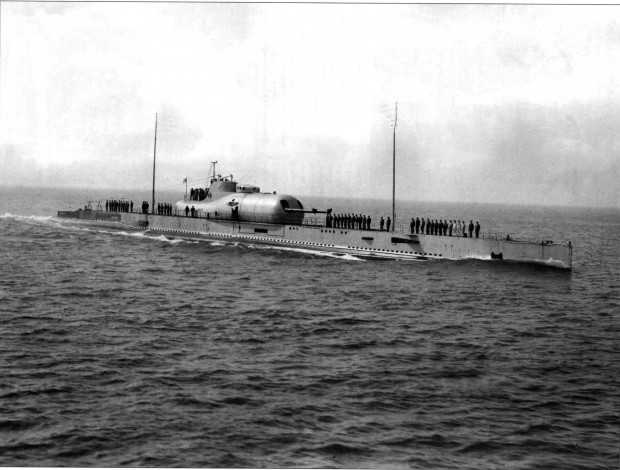 "While the German U-Boats were prowling off the Atlantic coast and the Caribbean, the Free French submarine, 'Surcouf; patrolled the eastern seaboard from Canadian Maritimes, to New England, to Bermuda, and toward the Panama Canal Zone," write retired American submarine captain Frederick Hallett and former US Coast Guard journalist Neal P. Cortell in "Bosun's Call".
"The 'Surcouf' became the mystery submarine of the Second World War.
" … When the Germans invaded France, 'Surcouf' was being refitted in Brest France, but managed to escape across the English Channel, travelling with only one functioning motor to Britain.
"The 'Surcouf' then travelled across the Atlantic to the US Portsmouth Naval Ship Yard in New Hampshire, Maine, to the US Navy Submarine Base in New London, Connecticut, to the Canadian Naval Dockyard in Halifax, Nova Scotia, and to the Naval Annex in Bermuda."
While in Bermuda, "Surcouf" became the subject of widespread speculation and rumour — with Britain's Royal Navy and US forces stationed on the island fearing the massive submarine might either go rogue and torpedo American convoys en route to Europe or attempt to defect from the Allied war cause to Vichy French territory in the West Indies or Central America.  France's puppet Vichy administration, installed by the Nazis after they conquered France in 1940, was officially neutral but aligned with Germany.
British historian James Rusbridger visited Bermuda and interviewed many local residents who were on the island during World War Two for his 1991 book  on the pride of France's navy, "Who Sank Surcouf?"
In his book Mr. Rusbridger addressed uncorroborated but persistent reports Royal Navy divers — acting on the instructions of British espionage chieftains — had secretly mined "Surcouf's" hull while it was in Bermuda's Royal Naval Dockyard. Supposedly the mines were timed to detonate after the submarine had left Bermuda and were intended to send the "Surcouf" and its crew to the bottom of the ocean.
The "Bosun's Call" report continues: "Leaving Bermuda on February 12, 1942, en route to the Panama Canal, 'Surcouf' was never seen again. 'Surcouf' was not in the best of condition according to those who worked on her at Portsmouth Naval Shipyard in Kittery, Maine, four months earlier.
"During a previous visit to Bermuda she had suffered from a large fuel leak and a seawater leak into her battery compartment, which caused a serious chlorine gas problem. And many of her crew were fairly new to submarines, having come aboard after she arrived in England in 1940.
"Part of the problem in maintaining her was lack of repair parts. She was full of French-made equipment, and France was under German control. So, an operational failure is a real possibility."
Captain Hallett and Mr. Cortell say the official version of how she was lost, accepted by many on both sides of the Atlantic, is that "Surcouf" was sunk in a night-time collision with the American freighter SS "Thompson Lykes" about 78 nautical miles north of the Panama Canal entrance.
"However, this scenario does not match any of the ship logs to document any operations of that sort during the factual time frame," they said, arguing she may have in fact been depth-charged in the Caribbean by US aircraft which mistook "Surcouf" for a Nazi submarine.
"In any event, American Navy intelligence had a policy of not publicly confirming U-boat sinkings and obviously was disturbed by the demise of the Free French 'Surcouf' that made the news in North America and Europe [fighting alongside the Allies]," the writers concluded.
In remembrance of the submarine and its lost, 130-man crew a memorial was unveiled on September 23 1951 by former Free French leader and future French president General Charles de Gaulle on the quayside at Cherbourg, "Surcouf's" home port.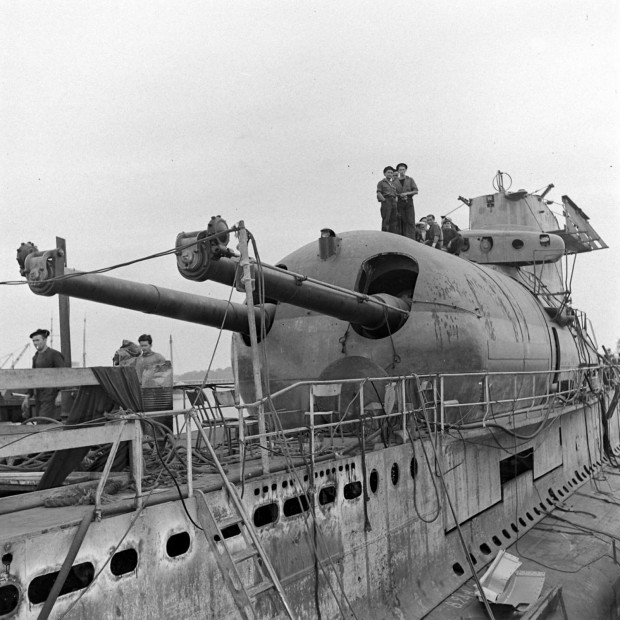 Read More About