A submarine that vanished after leaving Bermuda in 1942 is the subject of the "The Mystery Ship of WWII, The Surcouf" documentary from the New York-based Authority Group.
Often the subject of controversy and conspiracy theories, the French sub Surcouf launched as the world's largest submarine and, at the time of her loss, it was the greatest single submarine casualty ever.
The Surcouf left Bermuda in February of 1942, heading to the Panama Canal, and was never seen again, with all 127 members of the crew and three attached British seamen presumed dead.
Various theories have been proposed, including that she was deliberately sunk by the British or Americans, collided with a ship, was tailed by two subs from Bermuda, and of course some suggest the Bermuda Triangle is to blame.
The French sub Surcouf which disappeared after leaving Bermuda in 1942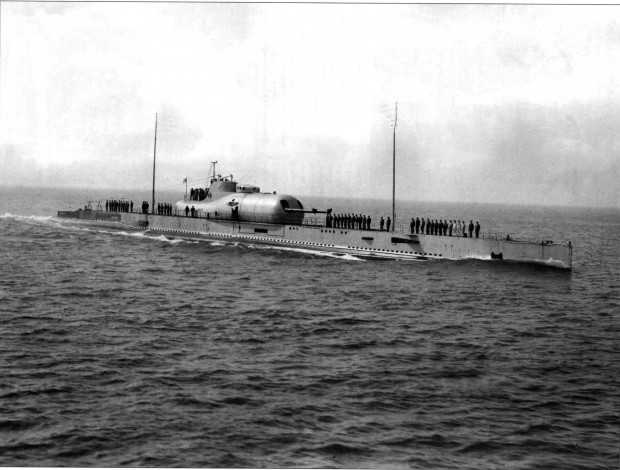 A statement [PDF] from the video producers said, "The Mystery Ship of WWII, The Surcouf, to the knowledge of The Authority Group, represents the first investigation that has been researched, written and produced for television focusing on the disappearance of the world's largest submarine and crew.
The company said that the recent release of historic documents relating to WWII has "heightened interest from The Authority Group and other historians as they can now benefit from an opportunity to further investigate the possible whereabouts of the Surcouf."
"According to historians and those who serviced her in Britain, Scotland, Canada, United States, and Bermuda, The super-submarine was not in optimum cruising condition," the Authority Group said.
"During her visit to Bermuda, she had suffered a large fuel leak and seawater flooded into her battery compartment, that caused a serious chlorine gas problem.
"The Mystery Ship of WWII, The Surcouf" video from The Authority Group
"Part of the dilemma in maintaining her was lack of repair parts and supplies. She was full of French-made equipment, and France was under German control. So, an operational failure was a real possibility," the filmmakers said.
"The official version of the ships catastrophic end, accepted by many on both sides of the Atlantic is that the Surcouf was sunk in a nighttime collision with the American freighter Thompson Lykes about 78 nautical miles north of the Panama Canal entrance.
"While the Allies and Axis acknowledged this account during WWII, his conclusion does not confer with any of the ship logs or factual time frames.
"To that end, The Authority Group in its documentary the The Mystery Ship of WWII, offers an alternative to the French ships demise. Should an undersea exploration off the coast of Martinique take place the 70-year secret story of its sinking may be lifted to the surface."
Read More About