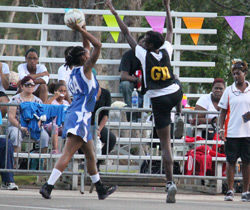 Week two of the Bermuda Netball 2011/12 League Season continued on Saturday [Oct.29] at the Bernard Park.
The YMSC Lady Bluebirds moved to 2 and 0 on the season with a 55 – 52 win over New Life, Danielle Raynor led the YMSC Lady Bluebirds with 39 goals, while Ebonie Burgess added 16 goals and Shanelle Lewis scored 10 goals.
Deborah DeShields scored 43 goals for New Life, while Rose Sanders added 5 and Kimale Evans scored 4 goals.
Antoinette Gibson and Denise Rawlins both scored 12 goals for the DataTech Netts as they defeated the NVCC Lady Rams 24 – 17, the YMSC Blazing Bluebirds won by default over the NVCC Lady Rams Too.
The Smooth & Easy Tigers defeated DC Warriors 49 – 13. Abby Caldas scored 10 goals for the DC Warriors, while Stacey O'Brien added 3 goals.
Read More About