BIU President Chris Furbert hosted a press conference this afternoon [Dec.5], and spoke about the recent staff layoffs at The Reefs Hotel in Southampton, general unemployment numbers in Bermuda, and said he feels all work permits should be put on hold until Bermudians "get a fair share in the workplace."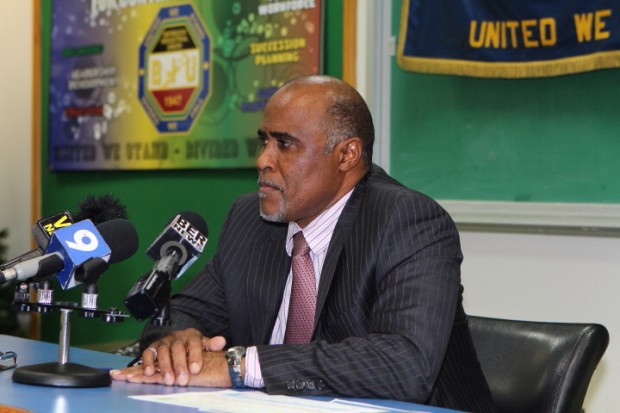 On November 7th, Reefs General Manager Nagma Walker said, "As a part of restructuring and realignment of The Reefs Hotel & Club, 3 positions in the Maintenance Department were made redundant. These decisions are difficult as we value our employees and their contributions.
"We empathize with them and are working with the Bermuda Industrial Union to assist in finding alternative employment for the 3 individuals. During this difficult economic climate, we are doing everything we can to minimize job redundancies while at the same time, maintain our high service standards for our guests."
Mr Furbert said that the three workers will remain laid off, and he recently met with Minister of Economy, Trade & Industry Patrice Minors to discuss the matter. He expressed the Union's concerns over this, and said as the positions were made redundant, they cannot be filled by anyone else.
The 22-minute audio of the press conference is below:
Mr Furbert also spoke about general unemployment in Bermuda, and referenced labour statistics [shown below].
"Probably 15 – 20% of employers in this country are not doing the correct things," said Mr Furbert. "They are trying to fly underneath the radar, and that 15%, maybe there needs to be a more stern warning to them if they get caught…"
Asked about the concept that some Bermudians have a sense of entitlement Mr Furbert said, "As far as someone being entitled to a job, I think first of all the Bermudian has a right to apply for the job, they must go ahead and of course present themselves correctly, but just to say that as I am Bermudian the job belongs to me, no, the Union would not support that categorically, but we still say there should be fairness…."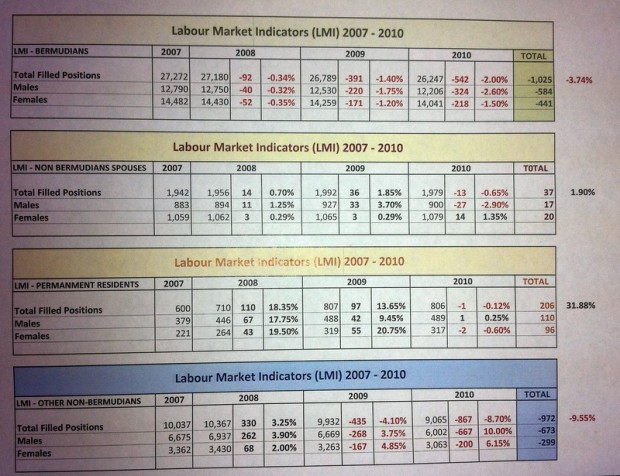 Speaking on the issue of work permits, Mr Furbert said "Whatever work permits have to be issued to any employer in this country, I would like before the Government issues one work permit, that – for now – all work permits should be put on hold until Bermudians are seen fit to get a fair share in the workplace.  And once that has been done, then and only then, should we reopen any work permits for any migrant workers.
"I understand the need for migrant workers to be here, we have too many jobs for Bermudians to fill. If you look at the latest number here, it's 38,097, I think is the number they gave in the latest report. It's 38,097, and we don't have 38,097 Bermudian to fill those jobs, we may have 27,000 or 28,000 Bermudians. But we don't have the other 9,000, so we need to have the migrant worker to assist with our economy.
Video of Part #1 of press conference:
When asked if he was talking about white collar or blue collar, Mr Furbert said, "I am talking about any area. First of all we have people that have probably lost their jobs at exempt companies, at banks, we have people who have been accountants, lawyers..and all these sorts of people have lost their jobs over the past two years."
Asked whether the BIU would like to see a moratorium on work permits, Mr Furbert replied: "The BIU would like to see a moratorium on work permits, yes."
Video of Part #2 of press conference:
Read More About