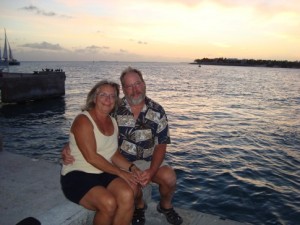 An American woman who was lost at sea off Bermuda in an ill-fated yacht regatta will be remembered at a memorial service on Sunday [Dec. 12].
The California school where Jan Anderson worked as a secretary for many years will be the site of the service.
Mrs. Anderson, 59, died last month while sailing with her husband near Bermuda [the couple are pictured here]. She was swept from the couple's boat, "Triple Stars," while competing in the North American Rally to the Caribbean [NARC].
"We were hit by a 30 foot wave," Mr.Anderson told the US Coast Guard after he abandoned his 38-foot yacht. "My wife went through the bimini top and I saw her floundering in the water, there were 25 foot seas and I threw her a life ring which she grabbed onto, but when I brought the boat around, I saw her go under and not resurface."
US Coast Guard personnel diverted the 600-foot "High Jupiter" to the area to rescue Mr. Anderson Mr. Anderson and he was taken to France before returning to the US.
The NARC] rally competitors — sailing from Rhode Island to Bermuda and then on to St. Martin — were hit by gale-force winds and stormy seas produced by a week-long low-pressure front which developed into Tropical Storm Sean.
Aside from "Triple Stars", another vessel in the NARC fleet was abandoned on the high seas, its crew rescued by the Bermuda freighter "Oleander" while a third yacht participating in the regatta had to be towed into St. George's harbour.
Services for Mrs. Anderson will be held at Monte Vista Elementary School in Rohnert Park, said daughter Kristen Anderson, a California firefighter.
Jan and Rob Anderson, high school sweethearts, moved their family to Rohnert Park in 1991. Mrs. Anderson worked at the elementary school for about 15 years.
"She loved it," Kristen Anderson said.
The couple left California in 2007, sailing south from San Francisco, through the Panama Canal then up to Maine, where they arrived in 2010 to see family.
The service is from 1 p.m. to 4 p.m. at the school.
Read More About
Category: All