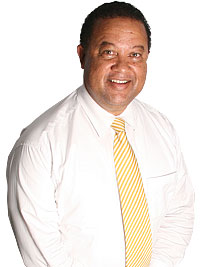 [Updated] A wheelchair-using American visitor's unhappy experience on a Bermuda bus brought tears to the eyes of Tourism Minister Wayne Furbert  – and he has offered to bring her back to the island at his own expense if necessary to make amends for her ordeal.
In a recent post on the social network site Facebook, New Jersey resident Jeannette Carey recounted her recent Bermuda nightmare.
"Bermuda is not handicapped-friendly," she said. "I was told to get off a bus because I was in a wheelchair. I was able to walk up onto the bus and my husband folded my wheelchair.
"But as I sat in the first seat, the bus driver told me to get off the bus. He does not take people in wheelchairs. I was mortified. I was a tourist on the island for the previous five days and had taken the bus couple of times. For whatever reason the bus company has a policy regarding wheelchairs. They don't have to let them on.
"I called over a supervisor and explained I was being told to get off but that I was already on, my chair was on and not in anyone's way. That the bus driver did not have to do any more or any less for me, but he was yelling for me to get off bus."
Mrs. Carey, who is currently training to be a doula, said as the supervisor was talking to the driver, she turned to the other bus passengers and apologised for the inconvenience.
"They stared me down", she said. "One man started yelling 'You're not listening, get off the bus'. The bus driver at some point came back on the bus and turned it off and took keys as he left the bus. Now the people were really upset. If looks could kill … One women hit my legs as she exited the bus."
Mrs. Carey said after about 10 minutes of waiting to see what was going to happen, the driver did return and drove the bus with her as a passenger.
"I was not getting off that bus," she said. "Because I am handicapped only means I am unable to walk [but] I felt in Bermuda it comes with a stigma.
"You are useless therefore you are worthless. Even for a ride on a public bus."
Tourism Minister Mr. Furbert [pictured] phoned Mrs. Carey in New Jersey yesterday [Dec. 3] immediately after being alerted to the report of her troubling experience in Bermuda
"What happened to her was very sad and disturbing to me," he said. "I called her and as she was explaining what happened, she started to cry — which brought tears to my eyes.
"I could feel her pain and hurt. I apologised to her on behalf of the Government and the people of Bermuda and have invited her back to Bermuda with all expenses paid — even if I have to pay for it myself. I have also spoken to The Minister of Transport who will be looking into it."
Mrs. Carey said she was both surprised and gratified that Mr. Furbert had taken the time to contact her about the bus incident.
"I received a phone call this morning from the Minister of Tourism of Bermuda," she said. "He was very apologetic. He will be meeting with the Transportation Department to discuss what happened to me and to rectify the issue.
"I was very happy with the outcome considering I didn't know the Minister of Tourism knew I existed. It was nice to know they cared. Thank you Bermuda. A bad apple should not spoil the whole basket. THIS IS THE BERMUDA I KNOW!!!"
Mr. Furbert added he had enjoyed talking with Mrs. Carey and his heart went out to her as she described what occurred on the bus.
"This should not have happened," he said. "Bermuda we must up our game and make sure that all our visitors are feel welcome when they come and while they are here. I have invited Jeannette and husband back to Bermuda at our cost and if I am on the island I will be there to welcome her. Bermuda, I love you, but it is we who hold our destiny in our own hands."
Update 10.50pm: This evening Transport Minister Derrick Burgess said he was personally saddened by this incident, it should never have happened and it was embarrassing to our country.
The Minister said buses are a public service, and said if the passenger can board the bus, the bus should carry them, as disallowing passengers is tantamount to discrimination.
He said he will be reviewing the policies, and will make any necessary adjustments immediately.
When asked what would happen to the driver in question, Minister Burgess said that he cannot speak on that at this time as he does not have all the details, but an investigation will take place.
Read More About