Bermuda got a second chance to replace a bad memory with a cherished one, as Mrs Jeannette Carey — a visitor who had a bad experience in 2011 — is presently enjoying another vacation on the island compliments of the Bermuda Tourism Authority.
Back in 2011 Mrs Carey, who was in a wheelchair due to a health issue, was told by a bus operator to leave a bus, with the bus driver apparently telling her they do not take people in wheelchairs.
In recounting the story in 2011, Mrs Carey said she and her husband got on the bus, and her husband folded up her wheelchair. She said she was then told to get off the bus, the driver went so far as to remove his keys and turn off the bus, and to make matters worse, another passenger actually yelled at her to get off the bus.
When then-Tourism Minister Wayne Furbert found out about the incident he was very disturbed by it, and personally contacted Mrs Carey to apologize on behalf of the people of Bermuda, and promised the Careys a return visit to Bermuda.
That return visit happened this week, with Mrs Carey's health having improved to the point that she is able to enjoy this visit without a wheelchair.
Mrs Carey, seated on left, enjoying breakfast at Elbow with her husband and BTA staff yesterday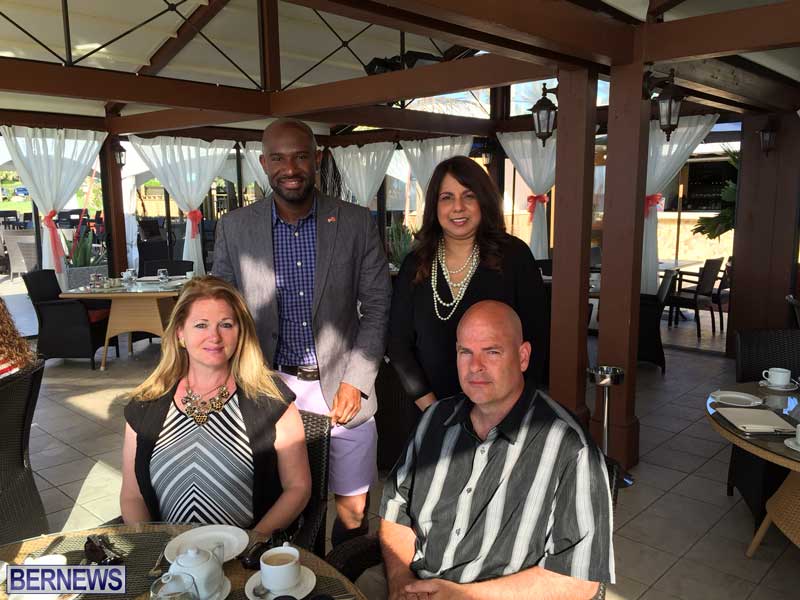 Bernews published a story about Mrs Carey's unfortunate experience back in 2011, and over the years has exchanged emails with Mrs Carey, as has former Tourism Minister Wayne Furbert and the BTA staff.
Bermuda Tourism Authority CEO Bill Hanbury followed up to make good on the promise made by the former Minister, and the BTA's Jill Dill has handled all the arrangements for this return trip, aiming to ensure that the Careys get to enjoy a great time.
Mrs Carey said her health has improved significantly over the past few years and she is able to enjoy her return visit without a wheelchair.
She is not as mobile as she would like but she and her husband William said that so far this week, they have already enjoyed a visit to Crystal Caves, a fishing excursion, and snorkelling, and yesterday they said they plan to try scuba diving.
The Carey's enjoying breakfast with BTA staff yesterday, with the breakfast courtesy of Elbow Beach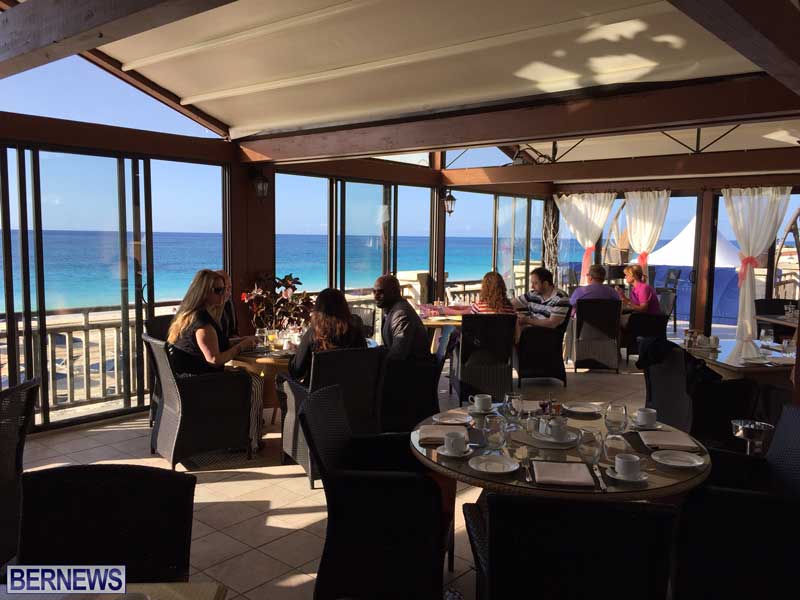 The BTA covered the Carey's airfare, a dinner, a taxi tour and airport transfers, while the Elbow Beach Resort provided accommodations over four nights and hosted a breakfast for the couple and the BTA this morning.
Mrs Carey said she was grateful for Mr Furbert's contacting her after the initial incident back in 2011, and on behalf of the BTA, Glenn Jones called MP Furbert to relay the couple's gratitude.
In response to the news that Mrs Carey was back on the island, Mr Furbert said, "We are very happy to hear the the BTA has lived up to a promise I made to Ms. Carey four years ago.
"It is important for good public relations and building confidence that Bermuda will treat you well, that we do these types of things. It goes a long way as she spreads the news about Bermuda.
"We understand that her health has improved since then and she has been able to enjoy her visit even more," said Mr Furbert.
Mrs Carey's birthday was a few days ago so the visit to Bermuda is also a birthday celebration, and Mrs Carey said that during this visit people who have no way of knowing of her bad experience the first time have been incredibly hospitable and very welcoming.
Following the incident with Mrs Carey in 2011, the Government disseminated a memo to all bus operators, supervisors and managers which stated that all operators must allow passengers with collapsible wheelchairs access on the bus.
Read More About