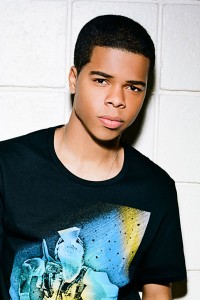 Chart-topping Def Jam recording artist Aaron Fresh [pictured] will make a special guest appearance at Chewstick's youth session on Saturday [Jan. 14].
Raised between the US and Trinidad and Tobago, Aaron Fresh is a genre-defying combination of West Indian and American culture.
Born in Illinois, he was sent to live with her ​​grandmother in Arima, Trinidad, where he was primarily raised.
During his stay in the country, Aaron Fresh learned to appreciate dub, reggae and calypso music and was inspired by Jamaican acts like Buju Banton and Sizzla.
Signed to producer Nick Cannon's Island NCredible Entertainment and Def Jam, the teenager's first single "Spending All My Time" peaked at number 38 on the US Top 40 and at number four on iTunes Top R&B Chart. A second single called "Dirty Girl" was also a hit.
Aaron Fresh's First Single "Spending All My Time"


The 19-year-old star is set to appear at Chewstick's monthly youth open-mic jam session TWIGS [True Wisdom in Growing Souls], held on the second Saturday of every month.
The session is aimed at showcasing creative young Bermuda talents in the same format as Chewstick's Sunday night open-mic jam sessions.
Being held at Chewstick's Neo-Griot lounge on the corner of Court and Elliot Streets, admission to TWIGS is $5. Soft drinks and snacks will be available for purchase, and donations toward the Chewstick Foundation's programmes and infrastructure would be appreciated.
Adults are encouraged to attend – but only if accompanied by a young person in their lives.
The TWIGS session takes place from 6 pm until 9 pm.
Related Posts
Category: All, Entertainment, Music, Videos