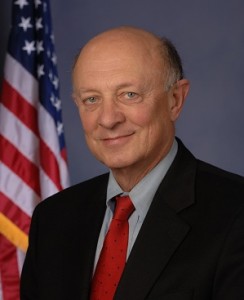 A former US Central Intelligence Agency director is looking forward to coming to Bermuda this week to address an international business forum, saying the island has a significant role to play in preserving economic stability during these unsettled times.
James R. Woolsey [pictured] — who served as CIA director under President Bill Clinton — is Business Bermuda's guest speaker at its Annual General Meeting.
The meeting will be held on Wednesday [Feb. 22] 2012 from 12 p.m. to 3 p.m. at the Fairmont Hamilton Princess hotel.
"I am looking forward to speaking at the upcoming Business Bermuda Annual General Meeting," he said. "These are uncertain times with looming conflicts in key regions of the world.
"I'll share my views of these challenges and offer my thoughts on the opportunity Bermuda has to help preserve the free flow of capital and contribute to global economic stability and certainty."
Mr. Woolsey says the world is entering a period of "major threats", with "oil's monopoly of transportation and the Organisation of Petroleum Exporting Countries' [OPEC's] near-monopoly of oil" among the most pressing.
Described by commentators as hawkish on defense and national security issues, but as a moderate on social and economic issues, Mr. Woolsey said he viewed himself as "a largely unreconstructed 'Scoop' Jackson Democrat."
Henry Martin "Scoop" Jackson (May 31, 1912 – September 1, 1983) was a US Congressman and Senator from the state of Washington from 1941 until his death. Mr. Jackson was an unsuccessful candidate for the US Democratic Presidential nomination in 1972 and 1976.
Mr. Woolsey previously served in the US Government on five different occasions, where he held Presidential appointments in two Republican and two Democratic administrations, with his most recent tenure occurring from 1993-1995 as Director of Central Intelligence.
Mr. Woolsey is Chairman of Woolsey Partners LLC and a Venture Partner with Lux Capital Management. He also chairs the board of the Foundation for Defense of Democracies; chairs the Strategic Advisory Group of the Washington, DC private equity fund, Paladin Capital Group; Chairs the Advisory Board of the Opportunities Development Group; and he is Of Counsel to the Washington, DC office of the Boston-based law firm, Goodwin Procter. In the afore-mentioned capacities he specialises in a range of alternative energy and security issues.
From July 2002 to March 2008 Mr. Woolsey was a vice president and officer of Booz Allen Hamilton, and then a Venture Partner with VantagePoint Venture Partners of San Bruno, California until January 2011.
He was also previously a partner at the law firm of Shea & Gardner in Washington, DC, now Goodwin Procter where he practiced for 22 years in the fields of civil litigation, arbitration, and mediation.
Business Bermuda is a non-profit business organisation of Bermuda-resident service providers and international businesses which provide quality banking, insurance, reinsurance, legal, accounting, financial, infrastructure, e-business, trust and management services, and products.
The organisation works with Bermuda's international business industry and Government to develop and promote Bermuda as one of the world's foremost centers for international business.
Read More About