[Updated with video] The One Bermuda Alliance held a press conference today [Feb.2] to introduce two candidates who will contest the next General Election for the Opposition; Alexis Swan and Dr Grant Gibbons.
Political newcomer Alexis Swan, 25, will represent the party in Constituency #24 Warwick South East, which will see her go head to head against Lawrence Scott who was previously announced as the PLP's candidate.
The seat is presently held by the PLP's Alex Scott, who won 58% of the vote against the UBP's Jeff Sousa [518-367] in the 2007 General Election.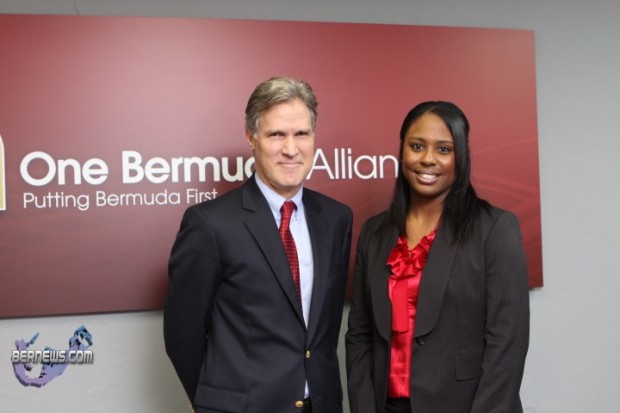 Ms Swan attended Saltus, boarding school at Maine Central Institute in the US, and earned a Bachelor's degree in psychology at Alliant International University.
After graduation from Alliant in 2008, she came back to Bermuda and joined Colonial Insurance, where she worked as a Medical Administration Auditor. In her spare time, she worked as a volunteer at Harbour Lights, by helping recovering addicts improve their reading skills. She also worked, part time, at the Sunshine League.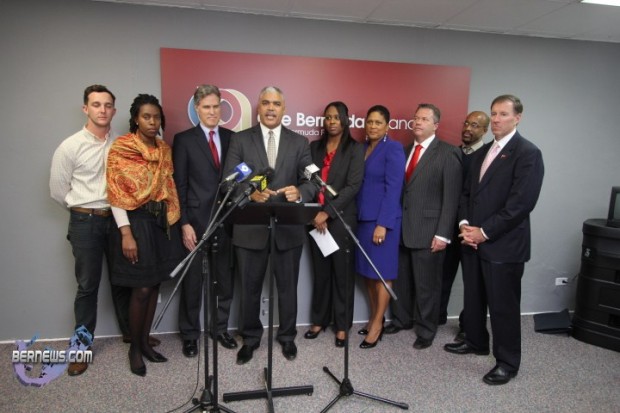 After two years in Bermuda, she went to London to take a Master's degree in International Business Management at American Intercontinental University. In June of last year, she graduated and returned to Colonial as an Account representative.
Ms Swan credits a strong and enlightened upbringing by her mother, Kuni Frith-Black, her father, Alexander (Alex) Swan, her grandparents, Charles and Marie Richardson and other members of her family in making her determined to be a strong individual.
"It's a diverse party," Ms Swan said, "a party open to new ideas which wants to encourage young people to get involved to help them improve Bermuda. I'm a dedicated and enthusiastic member, committed to helping them make my home a better place."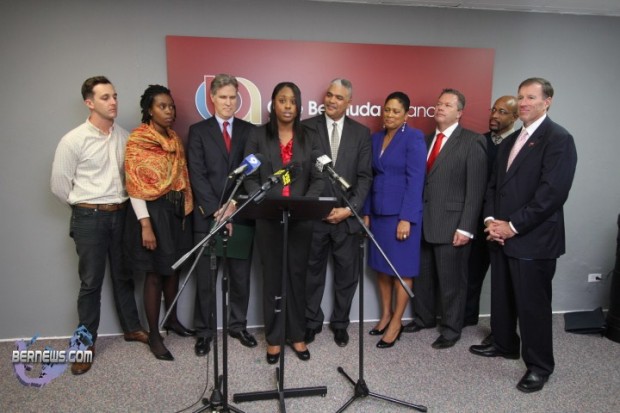 Dr Gibbons will stand for the OBA in Constituency #22 Paget East, the seat he presently holds. Dr Gibbons — running under the UBP's banner – won 77% [723-212] of the vote against the PLP's Davida Morris in 2007.
He was was educated at Saltus Grammar School, Phillips Academy in Massachusetts, Brown University, Oxford University and studied organic chemistry at Harvard University, and received a Ph.D. in 1982.
Between 1982 and 1987, Dr. Gibbons held various management positions at Squibb Corporation, and returned to Bermuda in 1987 and took up responsibilities as managing director of Gibbons Company and Peniston Brown. Currently, Dr. Gibbons is the deputy chairman of the Colonial Insurance Group of companies.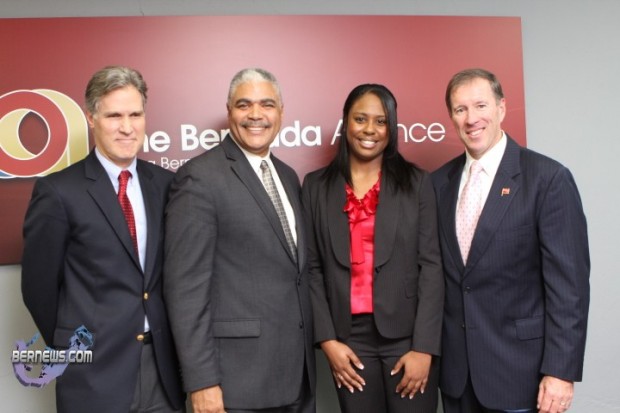 In 1994, he was appointed as a UBP Senator, being elected to the House of Assembly later that year. In 1995, he was appointed Minister of Finance and he served in that position until November 1998, when the PLP won the General Election. In 2001, Dr. Gibbons was elected Leader of the UBP and was appointed Opposition Leader, a position he held until 2006.  He currently serves as the Shadow Minister of Education for the One Bermuda Alliance.
The Opposition previously confirmed fourteen candidates who will stand at the next election: Ray Charlton in Sandys North [C#36], Toni Spring in Sandys South [C#33], Shawn Crockwell in Southampton West Central [C#31], Jeff Sousa in Warwick West [C#28], Ras Mykkal in Warwick South Central [C#26], Mark Pettingill in Warwick North East [C#25], Jeanne Atherden in Pembroke West [C#19], C. Anthony Francis in Devonshire North Central [C#13], Craig Cannonier in Devonshire South Central [C#12], Bob Richards in Devonshire East [C#11], Sen. Michael Dunkley in Smith's North [C#10], Trevor Moniz in Smith's West [C#9], Sylvan Richards in Hamilton South [C#7], and Gaylynne Cannonier in St David's [C#3].
Update 2.01pm: Statements added below
OBA Leader Craig Cannonier's statement:
Good afternoon,

Today we continue today with our candidate roll outs, and so I want to thank you all for being here to help that process along.

I am very proud today to introduce two candidates who will help get our Island back on track, where it is once again working better for people.

With me today are:

Alexis Swan, who will stand for the One Bermuda Alliance in Warwick South East, Constituency 24, and
Dr. Grant Gibbons, who will stand for the party in Paget East, Constituency 22

Together they represent the kind of team the One Bermuda Alliance is building to serve Bermuda. It is about continuity and change…

Grant represents the experience and steady hand that is needed to guide Bermuda through these tough times. He has expertise in virtually all major areas of Island life – finance, education, health; you name it.

I have got to know Grant over the past year and I must say that he is a man who works very hard for his country. He is always prepared, always looking for solutions, always ready to serve – a true public servant.

Alexis is with us because she believes young Bermudians need to get involved in public life to have a say in the future of the Island.

She brings energy, optimism and passion to the team. I've watched her in action in meetings and I can tell you she is a very impressive young lady – grounded, constructive and, most important, driven by belief that we can make things better for the people of this country.

I have no doubt that Alexis will be an outstanding representative for the people of Warwick South East and the best possible advocate for a better Bermuda.

Alexis…
-
Alexis Swan's full statement:
Good day to all of you.

My name is Alexis Swan and I am honoured to represent the One Bermuda Alliance in the next general election in Warwick South East, Constituency 24.

As a 25-year-old Bermudian, I grew up in a political system that seemed to be more about division than unity, more about self-interest than community, more about party than country.

I watched the governing party deliberately manipulate race for political gain and spend us into debt so deep that it will take my generation all our lives to pay it off.

The system, as I saw it, was not serving the people well nor was it serving the Island well.

I believe politics should be about uplifting people. I believe it should be about appealing to their best instincts and values in order to build something better.

I must say I had little hope for Bermuda's future until I learned about the One Bermuda Alliance.

I liked the name right off the bat because it says exactly what our island needs, which is for us to work as one people, allied together for a better Bermuda.

Months ago, I had an opportunity to learn more about the OBA when I spent an evening with some of its members.

I ended up joining the party because it brings something new to the scene – a new, diverse coalition of Bermudians who really want this country to do better. They have a lot of drive. They are motivated and their energy and optimism rubs off on you.

Bermuda needs that now – people motivating people for the sake of the country; and people believing in who we are as Bermudians and what we can do.

I also believe in the OBA's commitment to forming a government based on positive values and principles – such as honesty, transparency, cooperation, selflessness, responsibility and public service. This is the kind of foundation on which we can build real unity and fairness into our daily lives.

As a young Bermudian, I think I can help build that better Bermuda. I have a diverse educational experience and international exposure from studying in the United States and Europe.

I bring new ideas to the table and I want to use those ideas to encourage hope in the many, many young Bermudians with whom I will share life together on The Rock.

I believe in what Gandhi said: "You must be the change you want to see in the world."

I think there are many young Bermudians out there who would like to adopt that motto, but who believe our system blocks their way. Making sure the system does not block people is what I am all about, and what the OBA is all about.

We need a system that empowers us, not one that hinders us.

Bermudians should no longer be intimidated by politics. Everyone, especially the young, should find out how they can get involved and be the change they want to see. Now is the time.

To the people of Warwick South East, I believe a representative of the people is first about service. It's about being a good listener. It's about supporting people in times of need. It's about keeping in touch so that I know your concerns and your hopes. And it's about turning ideas into solutions that work for you, our community and our island.

That is how I will conduct myself as your representative. I look forward to working with you to building a Bermuda that works for you and our loved ones.

Thank you.
-
Update 3.44pm: Video of press conference
Read More About