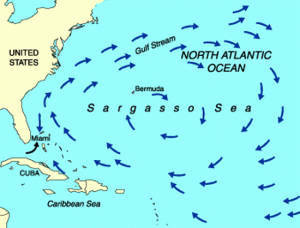 In 2010 scientists Marcus Eriksen and Anna Cummins), who are studying plastic pollution in the world's oceans, visited Bermuda to study  the  Atlantic "Garbage Patch" [pictured] which exists in the waters off the island.
Similar to one in the Pacific identified in the 1990s, the floating garbage from the North American mainland — extending over thousands of square miles but difficult to spot from the surface and spun together by a convergence of ocean currents — is harmful for fish, sea mammals and possibly even humans even though much of the plastic is broken into almost microscopic particles.
Now the man who started it all, Captain Charles Moore, is coming to Bermuda next week to give a talk sponsored by environmental group Greenrock.
Captain Moore, who discovered the "Great Pacific Garbage Patch", is the founder of the Algalita Marine Research Foundation and has logged over 100,000 miles of research voyages studying marine plastics pollution.
He will speak about his years of research investigating the growing problem of plastic pollution in our oceans .
Captain Moore has been featured in "The New York Times", "The Wall Street Journal", CBS "Sunday Morning", NBC's "Nightline", Nataional Public Radio, " Rolling Stone" magazine and a 2009 TED Talk.

Captain Moore On The World's Plastic Seas
His new book, "Plastic Ocean" will also be on sale. Captain Moore's talk takes place  next Thursday [Apr. 5] at 6:00 pm at XL House's Bermudez Room on Bermudiana Road, City of Hamilton.
The chance to meet Captain Moore in person and learn more about the plastic pollution problem threatening the oceans of the world is brought to you by the Bermuda Marine Debris Taskforce.
In January 2010, after Markus Eriksen and Anna Cummins visited Bermuda , a group of local environmental organizations formed the Bermuda Marine Debris Taskforce to study the amount of plastics that wash ashore in Bermuda and develop local initiatives to help solve the problem.
The member organizations of the Bermuda Marine Debris Taskforce are: Greenrock, KBB, Bermuda Zoological Society, Bermuda National Trust, BIOS, Department of Conservation Services, Waste Management and the Bermuda College Science Department.
Reserve your space by emailing vanessa.shorto@bios.edu — reservations are required as space is limited.
Cash bar opens 6:00 pm, followed by the lecture starting at 6:30 pm. Tickets are $20 ($10 for students).
Read More About
Category: All, Environment