New data released last week shows the number of children with autism is increasing dramatically and Bermuda Autism Support and Education [BASE] says the need for autism awareness has never been greater.
According to new figures released by the Centers for Disease Control and Prevention in the US, 1 in 88 American children has some form of autism spectrum disorder – an increase of 78% from ten years ago when the figure was 1 in 150.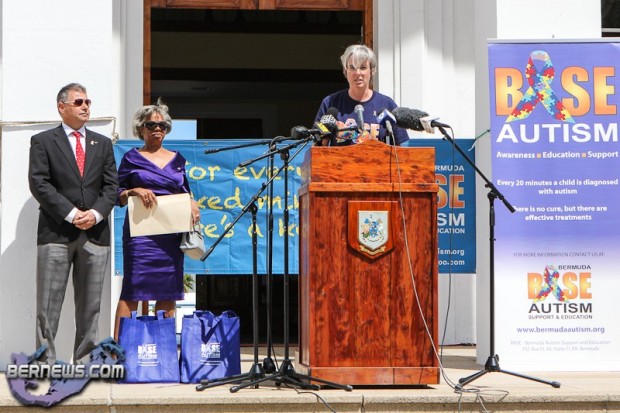 Speaking at today's [Apr.2] proclamation of World Autism Awareness Day at City Hall, Hamilton, BASE consultant Susannah Cole said: "Although there is no agreement or proven reasons for this increase; it should serve as an urgent call to address a critical issue facing society: Individuals and families living with autism need support and services.
"If society does not answer that call, particularly as the population grows, more and more individuals will not receive the help they desperately need. When needs are met, individuals are empowered to be self-sufficient citizens who can lead independent, fulfilled lives.
"Early screening and diagnosis can have a significant impact, leading to improved educational and social outcomes, employment and independent living. As the autism incidence surges, it becomes increasingly important that families know the signs of autism, have access to expert diagnosticians, receive appropriate services, and transition effectively into adulthood."
Today's proclamation, which also marks the start of Autism Awareness Month, was read by Education Minister Dame Jennifer Smith, who was also joined by Health Minister Zane DeSilva. City Hall will "Light Up For Autism" during April with the building being bathed in blue light at night.
Bermuda joined autism communities around the world in celebrating the 5th annual World Autism Awareness Day [WAAD] – an event established by the United Nations in 2008 that aims to bring the world's attention to autism, an incurable neurological and developmental disorder that affects more than 35 million people worldwide.
The Proclamation of World Autism Awareness Day below, click full screen for clarity:
Read More About