Premier Craig Cannonier hosted a Proclamation ceremony today [Apr 2], as Bermuda recognizes World Autism Awareness Day. He was joined at the podium by Ahmani Peets, a 10 year old boy with autism, who delivered an eloquent speech about his experiences.
According to Bermuda Autism Support and Education Society [BASE] there are approximately 106 children with autism in Bermuda and the lifetime cost of caring for a single child with Autism can be as high as $5 million.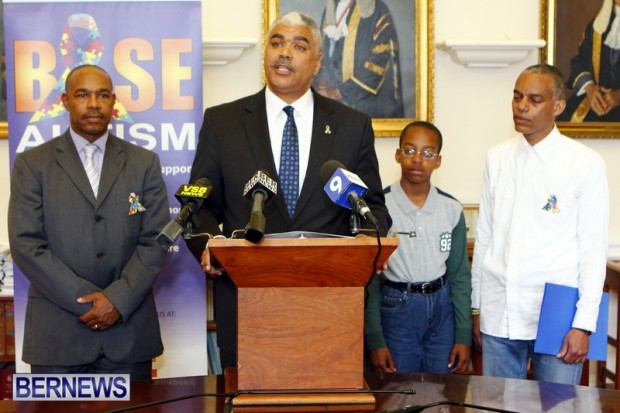 Autism is more prevalent in males than in females; it is not a mental illness; there is no known cause or cure but studies have shown that if treatment is started at an early age; great progress can be made.
BASE also seeks to raise a greater awareness of autism through education and information and to increase community understanding and support for those living with autism.
The Premier's reading [PDF] was followed by a very well delivered speech from Ahmani Peets, a 10 year old boy with autism.
"I am 10 years old and I will be 11 on April the 11th. I was diagnosed on the Autism Spectrum at 16 months in Birmingham Alabama. My mommy is from there," said Ahmani.
"Autism just means that you are unique. Everyone is unique. I like things and so do you. I like CARS 2 the movie, I like playing the wii and riding my scooter.
"I want you to know that everybody does not learn in the same way and it is important that that is respected. My mommy and daddy work every day with me and I have great Teachers. I also have great little sister Ahmya who is 8 years old and she is very smart.
Ahmani continued, "I attend Elliot Primary School and am in P6 Holdipp. I am an HONOR ROLL STUDENT ALSO. I have great friends who play and watch me do the right things. My special friends, are Ethan, Linais, Jaden, Mikayah, Mikalyah and Khush. My mommy and daddy teach me how to focus and learn many different things.
"Some things are easy for me as I do have a great memory. When you speak to me I ask that you say exactly what you mean. My parents teach me a lot about having a good character and each day I must follow the three r's and the 7 Habits. I will end by sharing the 3r's: We respect ourselves and others, we resist negative influences and we take responsibility for our actions."
Read More About