On a perfect day to shoot low scores, Dwayne Pearman did just that today [May 28] at Belmont Hills Golf Course. Pearman toured the course with a 7 birdie round which set the Jack Daniels low round record at 63(-7) to win by 4 shots.
Pearman managed the slow greens early with birdies on 2, 4 and 6 to make the turn at 32(-3). At this point Pearman led the field by only 2 shots, but birdies on 11, 12, 14 and 16 gave him the record 63(-7) and 4 shot victory.
Second place was rising star Chaka Desilva with a 67(-3). Desilvas round also consisted of no bogies but he struggled with getting the ball to the hole on the greens and after hitting 16/18 green left feeling his round could have been even lower.
Third place went to Twilton Smith on 69(-1) who also left some shots out on the course with bogies on 16 and 18. While fourth was Derriek Douglas on 73(+3).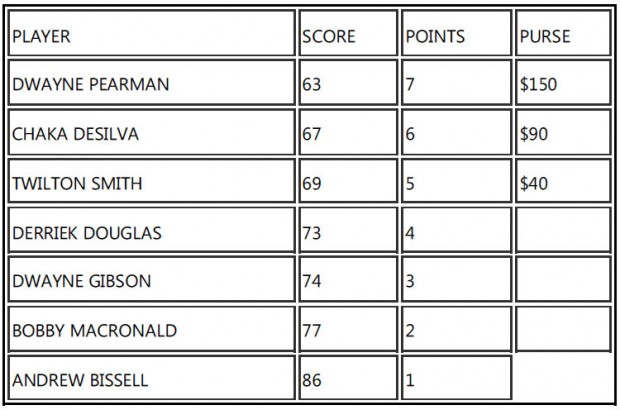 Read More About