[Updated] The One Bermuda Alliance held a press conference this afternoon [May 17], with Leader Craig Cannonier and Shadow Finance Minister Bob Richards speaking on the Ireland Island housing project.
Last week Minister of Public Works Michael Weeks announced the project, which he said would cost $36 million and be paid for by the West End Development Corporation, with Government providing a shortfall guarantee. The Minister said the  project is expected to take 18 month, and create in excess of 100 jobs
Minister Weeks said, "The project will be delivered in 2 phases with phase 1 seeing construction of 45 units on the property adjacent to the existing Victoria Row. Upon the completion of phase 1, the current sitting tenants from both Albert and Victoria Row will have the opportunity to move into the completed units.
"Phase 2 will see the demolishing of both Victoria and Albert Row and then completion of the remaining units. The development consists of a mix of 1, 2 and 3 bedrooms. Rents for these units will range between $1600 and $2,100 per month."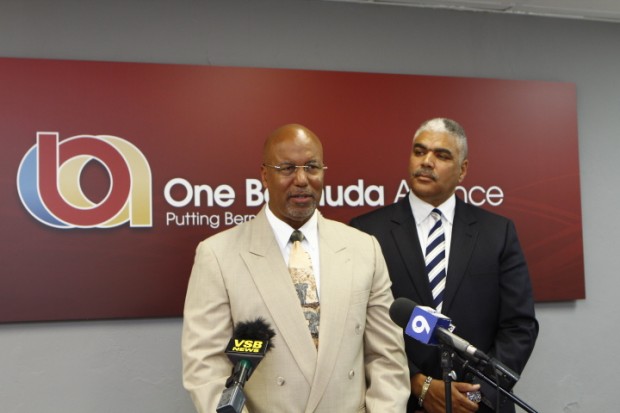 Speaking today, Opposition Leader Craig Cannonier said, "The Minister's statement was long on intentions but very short on specifics – leaving many questions unanswered about how this $36 million project is going to be paid for, and how it is going to work for people who already live there.
"Our first question is: Why is the Government continuing to build more housing when we know from conversations across the Island that there are hundreds of homeowners with empty apartments?
"With this project, the Government is moving into direct competition with Mr. and Mrs. Bermuda, who need the rental income from their apartments to meet their mortgage payments.
"We don't need government competing with Mr. & Mrs Bermuda. This weakens the economy even further. It is unfair that the Government should be making their economic recovery more difficult. This is a Government simply out of touch.
"Our second concern is with the people who live along Victoria and Albert Row. We know some families welcome the idea of moving into a fresh new home some time in the future – and why shouldn't they?
"But we also know that quite a few of the residents are extremely concerned and fearful that they will not be able to afford the rents of the proposed new units, let alone buy them. Some residents also maintain that the existing units are structurally sound and perfect for renovation.
"We would like the Minister to explain why he decided to demolish this historic housing instead of renovating them. This struck us as an opportunity to exercise responsible spending of the people's money. Instead, we appear to be following the same path that got us into major problems in previous building projects.
Mr Cannonier continued on to say, "Bermuda already has enough so-called 'affordable' housing. What we don't have enough of is housing for people who can't afford 'affordable' housing. The Government once had a plan for a purpose-built facility to house the truly needy. But it was shelved for the new TCD building.
"It has said there are plans to renovate some old buildings as shelters, but there remains nothing in place for the truly needy. That is where the real housing need lies – with the truly needy – and that is the context in which the Ireland Island announcement should be seen," concluded Mr Cannonier.
Shadow Finance Minister Bob Richards said, "My first questions are: Where is the $36 million coming from? And why hasn't the Government explained it? We know the Government doesn't have it, and we know Wedco doesn't have it. So, where is it coming from?
"And what is the deal? Someone is going to need to be paid for this scheme to work, so it's important to know what commitments Bermuda has agreed to put in place.
"If the Government has to guarantee it, then it is taking on more debt. This will be $36 million on top of the more than a billion dollars it already owes, and on top of the $14 million the BHC has to borrow to pay for the latest phase of the Grant Atlantic housing project.
"The public should not be fooled into thinking that Wedco or BHC borrowing is not public debt. These are government entities, and it is taxpayers who are ultimately responsible for it.
"The Minister made some ambiguous statements about phasing this housing project, but the essence of the plan is to build 45 units for $36 million. That works out to a cost of $800,000 per unit. That's an incredibly high cost, particularly for units that will be rented, as the Minister says, to 'entry level' income residents.
"At an average monthly rent of $1,850 per unit, it will take more than 50 years for Wedco to recoup the cost of these units, and that calculation does not include the cost of maintenance and interest.
"As my leader mentioned, every Member of Parliament and candidate for the next election knows from canvassing that there are residential vacancies all across the Island.
"A more practical and less costly alternative to the Minister's plan would be to try to place the targeted families on Victoria and Albert Row in vacant units around the Island. They could be provided with rental subsidies where necessary to make them affordable.
"This approach would work if the existing units are considered to be no longer habitable. However the Minister's statement did not say that so, again, we are left with questions.
"Another alternative is to renovate the existing units which, although old, are structurally sound. This would reduce the financial risk of construction and help tenants retain their existing monthly rent; something they are very keen to do.
"To conclude, and looking at this situation from the highest level, the Minister's plan provides a stark contrast between the Government and the One Bermuda Alliance.
"We firmly believe that, as foreign earnings are the lifeblood of our economy, government and Bermuda cannot spend our way out of recession," concluded Mr Richards.
Update 6.25pm: Minister Michael Weeks responded to the OBA, the full response is below.
The Hon. Michael Weeks, J.P., M.P, Minister of Public Works Clarifies WEDCO Redevelopment Project

The Hon. Michael Weeks today clarified several erroneous and misleading statements concerning the West End Development Corporation (WEDCO) redevelopment of housing and infrastructure made by the OBA during a press conference this afternoon.

While the OBA claimed that 45 houses would be built for $36 million, the actual number of units will be 100. In addition, the $36 million includes all costs associated with the project including architectural and planning costs, financing costs, infrastructure redevelopment (water and sewage) as well as the building of new units, and demolition and rebuilding of units at Victoria and Albert Rows. Phase one will consist of 48 units and phase 2 will consist of 52 units.

The OBA is also misleading in claiming that Government is paying for the development, when in fact WEDCO is securing all financing for this project directly on their balance sheet.

The OBA also claims that existing tenants will not be able to afford to buy the new units. This is inconsequential as the units will not be for sale.

Existing WEDCO tenants and those on the BHC waiting list will be moving into the units that will only be for rent. In addition, if tenants are having difficulty paying rent there are existing means within Government to provide assistance.

Rents are set below market rates. The new project will also afford additional savings through energy efficiency and centralized infrastructure distribution for sewage and water.

While the OBA claims it would be more cost effective to renovate the existing units which it claims are 'structurally sound and perfect for renovation', there is no evidence to back up this statement.

In actual fact, the units are plagued by termites, contain asbestos, have leaks in some roofs, and are overall in a very poor state of repair. To renovate the existing units would also entail evicting the tenants during the renovation period and alternative housing would have to be found for a minimum of six month.

In addition, the new homes and associated infrastructure work, including water and sewage treatment, embraces Government's efforts to promote sustainable development across the island.

Minister Weeks concluded: "Perhaps if the OBA had come to me with their concerns I could have answered many of their questions rather than holding a press conference and disseminating mistruths and fabrications about this project that aims to help those in our society most in need of housing assistance.

WEDCO is going to provide sustainable, affordable housing for the people of Bermuda and to turn this into a political football is shameful."
Read More About