Year 9 students at Saltus Grammar School got an expert guide to the latest motor technology this week when Bermuda Motors brought the new environmentally friendly Toyota Prius c hybrid to their Design and Technology class.
Michael McGrath, A1 Technician at Bermuda Motors, gave a presentation on the concept of hybrid systems, which use a combination of electric and regular gas motors and are more energy efficient as well as less harmful to the environment.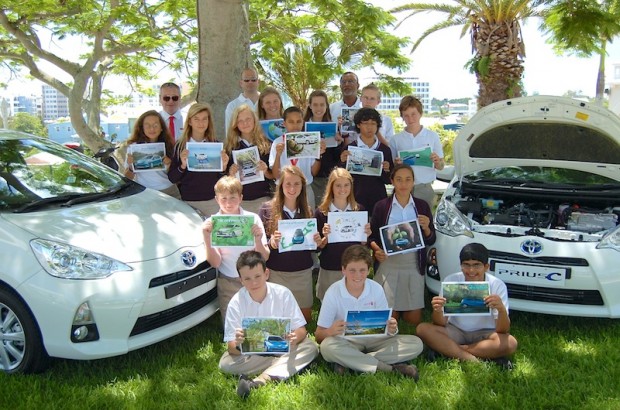 Prior to the visit, teacher Phillip Heap, head of the school's Design and Technology Department had given the class a special graphic design assignment. Students were asked to design posters advertising the Prius to the Bermuda market, taking into account the environment and Bermuda's unique perspective, and produced a creative range of materials.
Bermuda Motors staff will select the best three who will each receive a prize and have their designs displayed in the company's Church Street, Hamilton showroom.
In his presentation, Mr. McGrath explained how Toyota's Hybrid Synergy System automatically monitors the engine and electric motor to ensure the most efficient use of fuel and how the Prius uses energy more efficiently through features like regenerative. The technology means the Prius has lower harmful emissions and uses less fuel than most regular cars.
Mr. McGrath also explained how Toyota's drive for energy-efficiency is also reflected in the car's aerodynamic design; the use of longer-lasting, energy-efficient LED lighting; and lighter materials such as plastic, aluminum and composites rather than heavier steel, iron and glass which require the engine to produce more power and therefore use more fuel.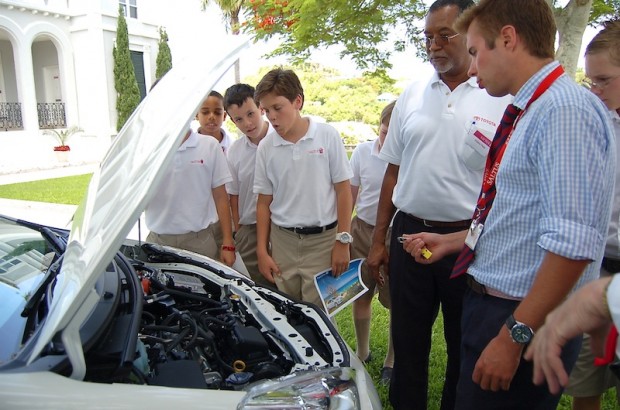 Any schools interested in looking at or conducting a similar project with the Toyota Prius c should contact Bermuda Motors.
Read More About