[Updated] Brochures mailed to residents by Government are "electioneering campaign" documents that should be paid for by the PLP not taxpayers, OBA MP Mark Pettingill said this afternoon [June 1].
The brochures are "electioneering campaign document that should be paid for by the Progressive Labour Party in their campaign to be Government again," said Mr Pettingill. "The taxpayers should not be picking up the bill for a document like this."
"They are doing it before an election we all know is coming," Mr Pettingill said. "It's outrageous, unethical and improper."
Mr Pettingill said the PLP should be "reimbursing the taxpayers for these particular brochures.The people of Bermuda should not be paying for this." Photos of the document Mr Pettingill was referring to are below, they will enlarge slightly if clicked.
Photo example #1: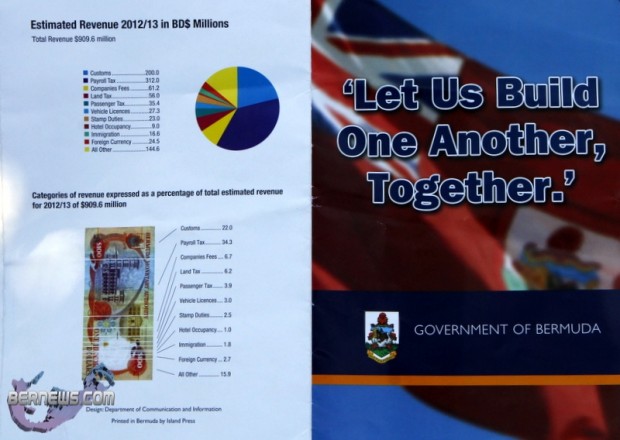 Photo example #2: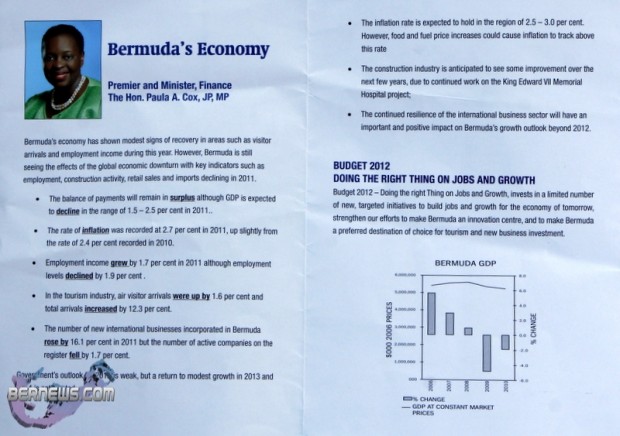 Photo example #3: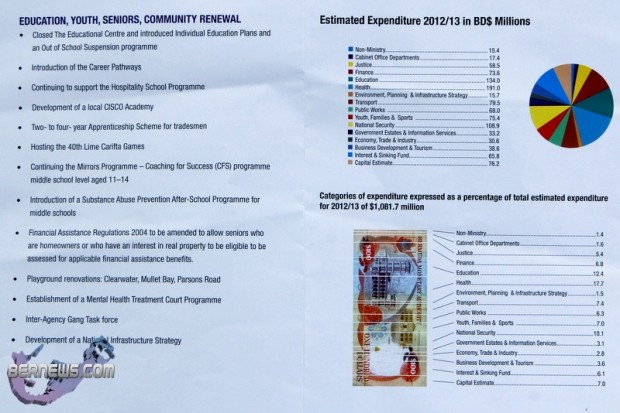 Photo example #4: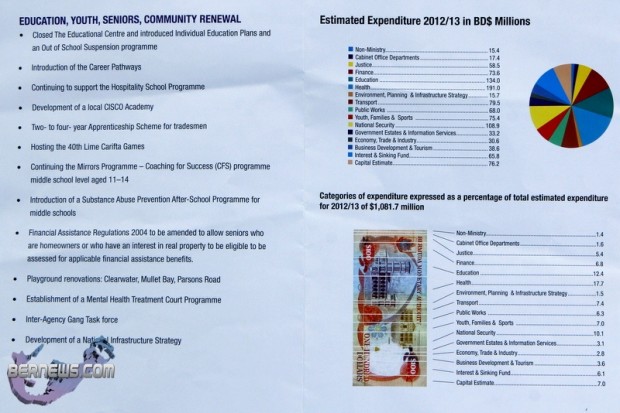 Update 4.45pm: The Government responded to this issue, saying: "In December of 2011, the Ministry of Finance released the Pre-Budget Report. In that report the Government committed to joining the Open Budget Initiative. Joining the Open Budget Initiative and giving a commitment to budget transparency is yet another step towards better governance in Bermuda.
"One of the commitments which were made on page 30 of the pre-Budget Report is as follows:Citizen's Budget: A Citizen's Budget is a nontechnical presentation that "can take many forms but its distinguishing feature is that it is designed to reach and be understood by as large a segment of the population as possible".
"A citizen's budget is a simplified summary of the budget designed to facilitate discussion. In 2005 and 2006 the Government issued a guide to the budget. The Government will re-introduce this document with the 2012-13 budget statement. The distribution of these pamphlets started in March as they were made available at the Open Budget Town Hall Meetings.
"The publication and distribution of the Citizen's Budget document this year, is in keeping with the government's commitment to transparency and understanding in the budget process."
Update 6.53pm: A PLP spokesperson said, "Mark Pettingill and the One Bermuda Alliance are so upset with the pamphlet released by the Government of Bermuda because it undermines their ability mislead Bermudians about the budget.
"The budget pamphlets includes a lot of inconvenient truths for his party. It shows that you can't magically balance the budget by simply "cutting consultants," "Ministerial travel" and "Ministerial Salaries" as he and his party would have the people believe. It's shocking that a party that is supposedly committed to transparency is upset when the government is proactive and transparent with the people about where their money goes!
"Which is it, OBA, do you want a transparent budget or do you want to keep Bermudians in the dark? You can't have it both ways"
Read More About