Bermudians took part in the 2012 London Pride March yesterday [July 7], joining thousands of people who descended on London for the march despite some heavy rain showers.
Bermudian Chen Foley said: "It is good that legislative change appears to be back on the agenda but it is disappointing that steps have still yet to be taken to introduce a bill.
"If the government is as serious about extending human rights protection as Minister Glenn Blakeney suggests, one would have expected it to demonstrate leadership, and to have acted far more quickly and decisively."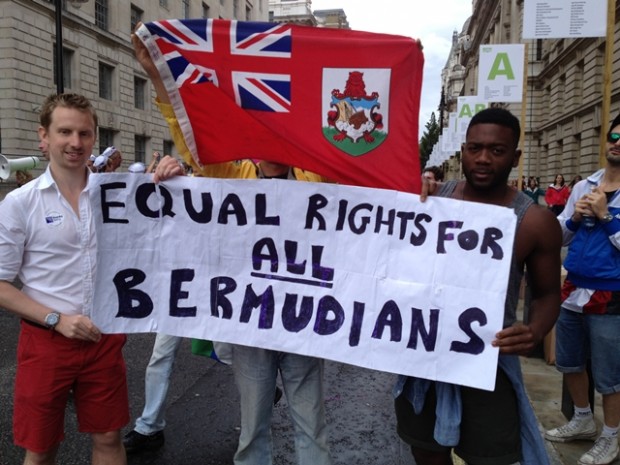 Bermudians in London joined the other marchers to highlight the fact that discrimination on the basis of sexual orientation is still unprotected under Bermuda's Human Rights Act, something which MPs are due to debate soon.
Campaigner Benedict Greening, who marched along with other Bermudians, said: "Because of the austerity and the cutbacks in the usual Pride celebrations, there weren't any mopeds allowed in our float this year.
"But we still brought the same amount of passion for a positive change in the law in Bermuda. This change would be such a powerful act for so many Bermudians who currently feel shut out.
"It would also be a signal for all Bermudians and for the world that our island values civil rights for everyone; that we're a modern, progressive country."
"The march had a real grassroots feel. Groups came together from countries all over the world to speak out against discrimination and persecution. The weather was patchy. At one point the heavens opened. By the end, however, the sun was shining," said a spokesperson for the group.
Organisers said around 25,000 people took part in the march, while crowds also filled Trafalgar Square for performances by acts including Boy George.
The British government showed its support for the event by hoisting the rainbow flag symbolising gay pride over one of its ministries for the first time on Friday.
The London Pride Parade has been an annual event for 40 years, and in in recent years Bermudians have formed a group to participate in the event. In 2011 Mark "Sybil.Barrington" Anderson lead the Bermuda contingent in the parade, and in 2010 the group rode scooters through the streets of London wearing Bermuda shorts.
Related Posts