[Updated] The Bermuda flag, Bermuda shorts, scooters, and a group of Bermudians lead by Mark Anderson – aka Sybil Barrington – could be seen on the streets of London yesterday [July 2], as the group took part in the 2011 London Pride Parade.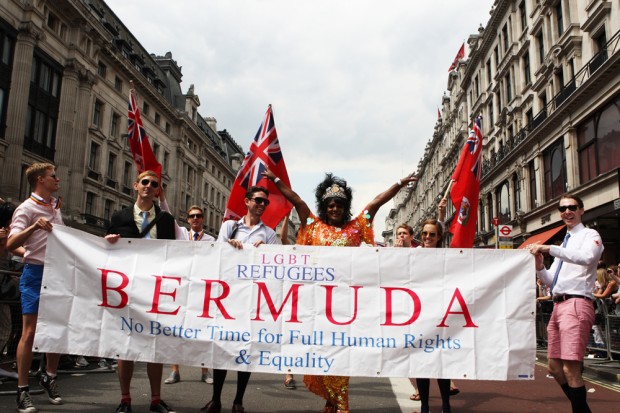 They carried a banner saying 'LGBT Refugees – No better time for full human rights and equality," as they marched behind Sybil who was dressed to impress in a floor length figure hugging sequined evening gown, matching heels and tiara.
The tiara was 9″ inches high, encrusted with swarovski stones, and was hand made specifically for Sybil's London appearance. Sybil was also adorned with a 'Queen of Bermuda' sash, and walked the entire route in glamorous 5 inch high heels from Perry Footwear on Queen Street.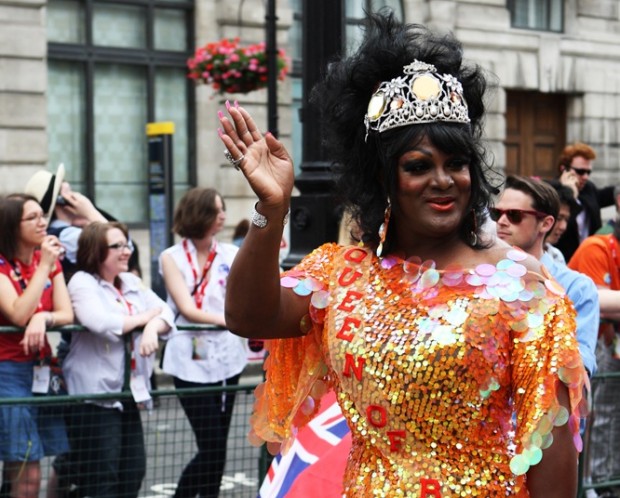 Sybil – who was named one of the 100 most influential entertainers from around the world in a recent book – was also invited to perform at two of Londons Hottest Clubs – The Hipperdrome and Vauxhall. After the Parade, Sybil said, "As always I represented my country Bermuda with dignity, pride and glamour."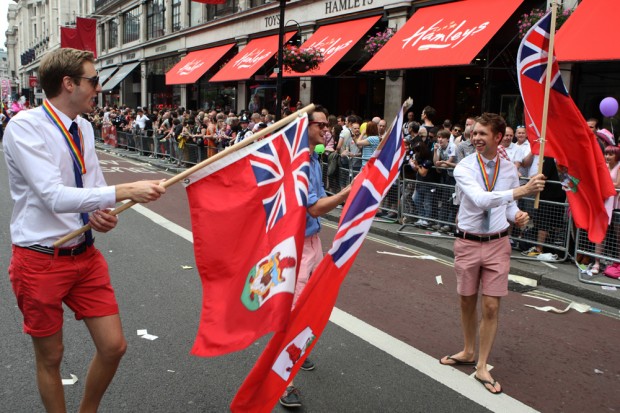 The Parade seeks to raise awareness of discrimination and difficulties affecting the lives of lesbian, gay, bisexual and transgender [LGBT] people around the world. Now in its 40th year, the parade is one of the largest of its kind in the world, and attracts an estimated million people each year. This is the third consecutive year Bermudians have particated in a group.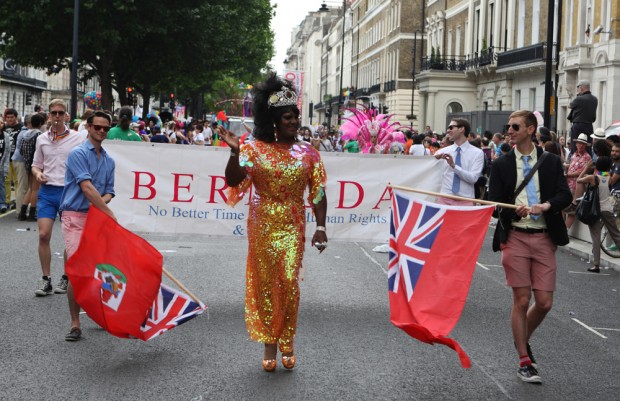 This was Mr Anderson's first appearance in the parade, and before going he said, "My reason to do this, is because I'm fighting for every Gay, Lesbian, Bisexual and Transgender person who was born yesterday, today and will be tomorrow here in Bermuda, that they will not grow up with the hateful prejudices, which I experienced most of my life. I am also fighting for those who live a clandestine gay lifestyle in our country."
Photos courtesy of Jeffrey Porter, click to enlarge:
- Bernews would like to extend our thanks to Jeffrey Porter for the photos
Read More About