Bermuda produced two champions at the Caribbean Junior Championships this weekend, with Dylan Pratt [under 13] and Noah Browne [under 19] triumphing in their age groups.
More than 100 players from eight Caribbean countries battled for top honours in four age groups: Under 13, Under 15, Under 17 and Under 19.
In the boys under 13 match Bermuda's Dylan Pratt won against Khamal Cumberbatch from Barbados 3-0 (11-9, 11-3, 11-8). Dylan Pratt played a very strong tactical match and used his solid strokes to play good defense when pressured and when given time, took the middle of the court and attacked.
The boys under 17 match saw Nyron Joseph (GUY) win over D'Vario Thompson (BER) 3-2 (9-11, 6-11, 11-7, 11-6, 11-8). Thompson, who plays for Wycliffe College in England started very positively and used his classic racquet skills to move across the mixing volley drives, kills and drops and even slotting a few dead nicks for good measure in the first two games.
However, the Guyanese player once again got stronger as the match wore on and came back from his second straight 2-game deficit by becoming a backboard for everything Thompson could throw at him – most rallies ending in a frustrated tin by the Bermudian after 3 or 4 uncanny gets by Joseph.
Noah Browne pictured in a file photo: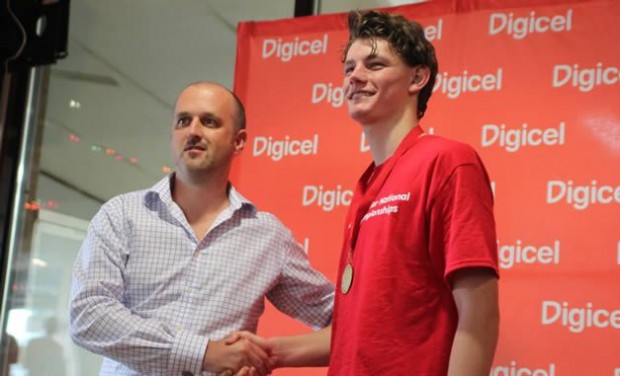 In the boys under 19 match, #2 Noah Browne from Bermuda beat #1 Kevin Hannaway (VC) (6-11, 11-9, 11-8, 11-3). By the time the boys U19's took the stage, the championship was already an hour behind schedule and the gallery was overflowing both physically and emotionally.
This was a highly anticipated match between the racquet skills and shot making of Browne versus the athleticism and determination of Hannaway.
The Bermudian, who will attend Amherst College in the fall continued to play the big points well in the 3rd game as he maintained a 1-2 point lead all the way up to the business end of the game in which he once again played his best points.
By this time, Hannaway had done the lion share of the work and it was starting to show as his legs were taken out of him by some great holds from the front of the court by Browne. Hannaway, who was a wonderful sportsman and class act throughout the match, could not mount a last minute charge, giving the Bermudian the biggest win of his career and the 2012 BU19 CASA title.
Read More About