Friends of Rudy Smith are in the process of organizing a search party for this coming weekend, and are asking the community to come out and lend their support.
Mr. Smith was reported as missing by family members on Wednesday 11th July, 2012, with the family having not seen him since the previous Monday [July 9].
The past Monday [July 16] police located Mr Smith's motorbike in the waters in front of Grace Church on North Shore, Pembroke. A Police Dive Team was activated to search the waters for any other items that may assist in locating Mr. Smith.
The police have previously described Mr. Smith as a brown skinned male of slim build, approximately 5'8" tall with brown eyes, close cut black hair and a goatee.
Mr Smith's friends have made up posters, and have placed them in various places ranging from Collectors Hill in Smiths up to Woody's in Sandys, and have paid special attention to ensure posters are up in places Mr Smith was known to frequent.
They have asked anyone willing who is able to put up a poster [below] to please do so, and also said for anyone that may not have a printer they can deliver a poster to them.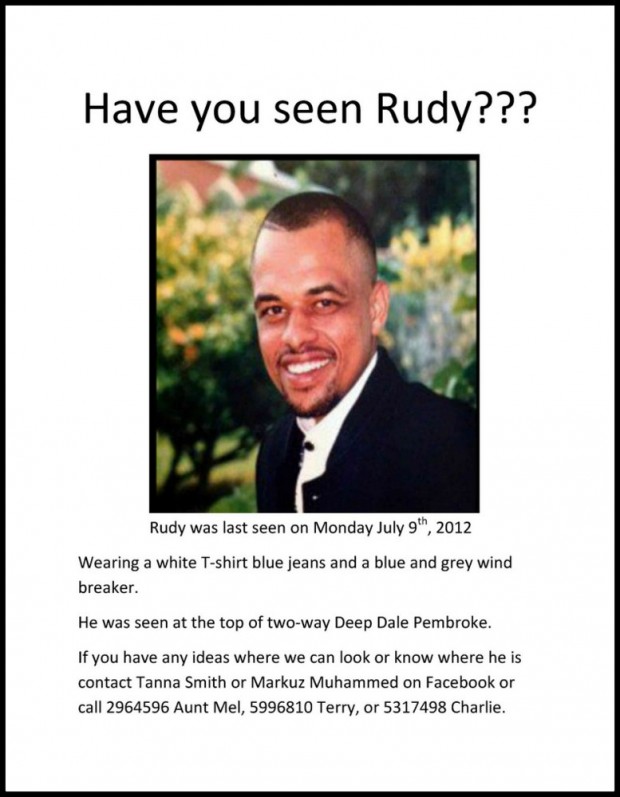 Mr Smith's friends said the idea started on a BB chat, where people joined together to see what they could do to assist. The friends hope to have a group of people meet at each Seventh-day Adventist Church this weekend, with the Church selected due to their island-wide locations.
They hope to have groups out searching by foot, "checking anywhere and everywhere" including the water side, abandoned buildings and some of the less traveled parts of the island. They feel that a community based search can get further than the police are able through strength of numbers.
Some people are already out searching for Mr Smith, and they are asking the island come together for the weekend. They have spoken with the police already, and plan to call the Churches to see if they can assist
Mr Smith's friend said the recent development of finding his bike overboard was "not a good thing," however they remain hopeful for the best.
The friends are firm in their belief that there is no chance Mr Smith would have went missing voluntarily for this amount of time, causing this much worry to his mother and family. They feel he could have been kidnapped, and may be being held against his will, or may be trapped somewhere.
Mr Smith's friend, who has known him over 20 years, said she feels "in her heart it's not too late," and feels he is alive and needs help, but noted that as time goes on "it could become too late."
As of this writing, 27 people have offered their assistance, and organizers are asking anyone who can chip in any way to come out and help, saying no matter how small your contribution may be, every little thing helps.
"Let's bring the community together," they appealed. To contact the search party organizers please email dawnellecampbell "at" yahoo.com or call 599-6810 and ask for TerryLynn Webbe.
Speaking with Rudy's grandmother this morning, she said that her grandson was not the type to go missing, that he always came home, and was not a person to stay out all night. "He gets along with everyone," she said.
Police have appealed for assistance and anyone with any information is asked to contact the Serious Crime Unit in confidence at 247.1340, or alternatively to call the confidential and anonymous Crimestoppers hotline on 800-8477.
Related Posts