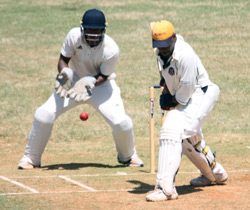 Willow Cuts have retained the Western County Cup after defeating PHC yesterday [Aug 12], with a final score of Willow Cuts 306/9 PHC 111/9.
At the Southampton Oval, the defending champions Willow Cuts batted first and scored 306/9 in their allotted 50 overs. Malachi Jones was the top scorer with 60, George O'Brien Jr. Added 48 and Dexter Basden scored 46.
Cal Waldron led the PHC bowling attack with figures of 10-1-53-3, while William White bowled 10-0-67-3 and captain Kevin Tucker bowled 10-0-42-2.
In reply PHC could only manage 111/9 in their 50 overs, Delray Rawlins was the top scorer with 24, while Charles Symons added 19 and Kevin Dill chipped in with 18.
Kevin Fubler led the Willow Cuts bowling attack with figures of 10-1-29-3, while Kavon Fubler bowled 3.5-0-28-2 and Jermaine Trott ended wth figures of 7-0-30-2.
Related Posts