On Thursday, [Feb 14], 2013, Fabio Buzzi was presented an award for his record-shattering Bermuda Challenge run. Boating Editor-In-Chief, Kevin Falvey, presented the award at the 2013 Miami International Boat Show.
The was broken yet again with an Italian team roaring in to St George's in a time of approximately 17 hours. They left New York to make 780 mile open ocean transit and ended up smashing the previous record by over 4 hours.
The boat was by noted Italian yacht designer and builder Fabio Buzzi, and is 39.9′ long, weighs 9 tons and is powered by 2 FPT 650HP engines. It is a military boat, and used by the Italian Army special forces.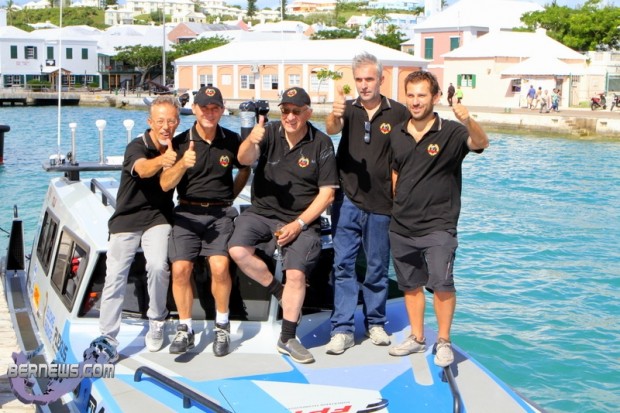 Mr Buzzi was accompanied by crew including Antonio Binda, Maurizio Bulleri, Emilio Riganti and Roberto Rizzo. They averaged 40-knots en-route, despite encountering rough seas and being chased by a storm front.
The first run was in 1996 by Larry Graf in his Glacier Bay 260 Canyon Runner with twin Honda 90s, and was completed in 37 hours. In 1997, a World Class 266 SF catamaran powered by Mercury Optimax 150s cut the time to 29 hours, 30 minutes.
In 2002 the record was broken again by Bermuda's Dr Neil Burnie aboard a Renaissance Marine Prowler 302. In August 2012 the record was broken yet again, with Chris Fertig finishing in 21 hours and 39 minutes.
Read More About
Category: All