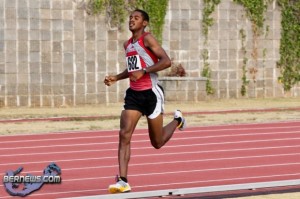 28-year-old Lamont Marshall was charged in Magistrates Court this morning [Aug 15] in connection with the collision on Monday [Aug 13], which resulted in a 22-year-old female being seriously injured and flown overseas for medical treatment.
Mr Marshall, one of the island's top runners, did not have to enter a plea as the matter can only be heard in Supreme Court. He stood silently throughout this morning's proceedings.
He was charged with causing grievous bodily harm to two people while his ability to drive was impaired by alcohol or drugs. He was also charged with refusing to submit to an alco-analyzer test.
A police statement issued after the accident said that they responded to a report of a road traffic collision that took place at 1:09 at the junction of Middle Road in Paget and South Shore Road.
Police said that a man in car collided with a motorcycle that was traveling in the opposite direction. The cyclist and his pillion passenger were taken to the hospital where the man was treated for non life threatening injuries, while the female was in the ICU with serious head injures before being flown overseas.
Mr Marshall was released on $10,000 bail with one surety, and must get the Court's permission before leaving the island.
- File photo
Related Posts
Category: All, Court Reports, Crime, News