Mr. Don Kramer, Chairman of the National Dance Foundation of Bermuda, today [Aug 21] announced the ten recipients of scholarships and bursaries for 2012-2013. These awards represent a total of $60,000 in funding which is the largest scholarship funding ever by the Foundation.
This year the Foundation received double the number of applicants than in previous years and are able to assist these young Bermudians because of the ongoing commitment of loyal sponsors such as The Montpelier Re Foundation, BF&M and Partner Re as well as many donors who wish to remain anonymous.
Mr. Kramer said, "We would like to offer these young Bermudians our congratulations on their achievements. They are testament to the dance schools here in Bermuda. And our most heartfelt appreciation to all those wonderful donors, who continue to believe in the mission of the National Dance Foundation which: aims to develop young people through dance by supporting and providing world class training to the Bermuda community."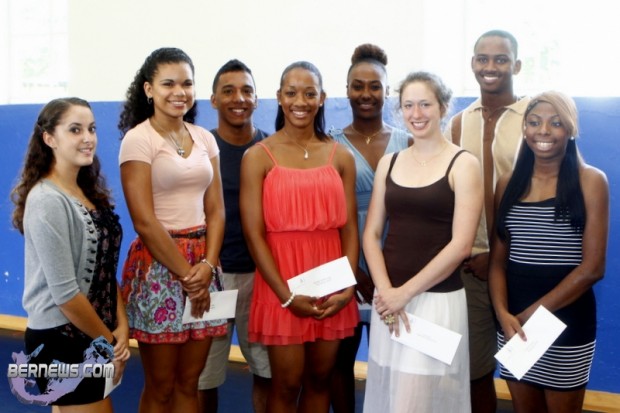 Krystal Smith Lowe was awarded the Patricia Calnan Commemorative Award valued at $15,000, sponsored by Family & Friends of Patricia Calnan and presented by Detective Chief Inspector Nicholas Pedro, son of Patricia Calnan. Krystal began dancing with the In Motion School of Dance and continues her training with the Somerset School of Dancing.
During the past year Krystal trained with the Welsh Ballet (Ballet Cymru). They have now invited her to be an apprentice with the company, which is a unique opportunity for her and with a view to joining the company as a full time member. This is exactly the sort of professional experience with which the Foundation is so pleased to be able to assist aspiring Bermudian dancers.
Fredrika Hill was awarded  the Ana Roje Commemorative Award, valued at $7,500 and sponsored by The Montpelier Re Foundation. Fredrika will enter her second year of the Bachelor of Fine Arts degree at the prestigious Boston Conservatory for the Arts in Boston, Massachusetts.
Genesis Edwards won the L. John Profit Commemorative Award, valued at $7,500 and sponsored by BF&M and presented by Gina Bradshaw of BF&M. Miss Edwards is a Bermudian studying in London in her final year at the Arts Educational School. Exceptional comments from the school note: "Genesis is likely to be one of the most employable students of the year" .
She is also the UK pioneer for teaching a dance form called "krumping" which is a form of street dancing created by Los Angeles teenagers who needed an escape from society. Krumping seeks to release negative energy and eradicate violence by spreading a positive message of betterment, renewal and love. It is the hope of the Foundation that she will be able to come soon to Bermuda to teach this latest dance form.
The Georgine Mary Russell Hill Scholarship, valued at $7,500, and also sponsored by Montpelier Re Foundation is awarded to Dezjuan Thomas and presented by Dr. June Hill. Dezjuan will be starting his first year at Ryerson University in Toronto pursuing a Bachelor's of Fine Arts Degree in dance and a minor in Technical Theatre.
A student and teacher assistant at United Dance Productions for over ten years he was recently seen in that school's phenomenal 20th anniversary show this past weekend. Dezjuan is a force to be reckoned with, displaying incredible strength and perseverance to defy the odds of an illness that said he could not continue to dance.
A Professional Development award of $5,000 sponsored by the National Dance Foundation is going to Anna Clifford. Anna received her formative training at the Bermuda School of Russian Ballet in Bermuda and the In Motion School of Dance and has been a past awardee of National Dance Foundation scholarships. She has just completed a three- year Bachelor of Arts degree in Modern Ballet at the Royal Scottish Academy of Music and Drama in Glasgow, Scotland talented and has been invited to intern with the renowned Joffrey Ballet Trainee programme in New York City where trainees will have opportunities to dance with the company.
Professional Development of $5,000 sponsored by the National Dance Foundation of Bermuda has been awarded to Karissa Roberts who is in her final year of a Masters Degree at the University of North Carolina at Greensboro. Karissa studied with In Motion School of Dance for over ten years and was a senior member of their Concepts in Motion Dance Company. A recipient of several previous awards from the National Dance Foundation, Karissa has decided to expand her knowledge by studying athletic training with the Department of Kinesiology with special interest in dance injuries.
The first recipient of a National Dance Foundation bursary award is to Malachi Simmons who is entering his second year at Edge Hill University in England to study for a Bachelor of Arts degree in visual theatre. Malachi, well known in Bermuda for his acting and dancing ability, as well as his community work with Youthnet and Peacebuilders, has joined the university all male contemporary dance company at his university.
The second recipient of a bursary award is Dawnita Smith who is currently enrolled at Bird College in England for a three-year course for a National Diploma in Professional Musical Theatre. Dawnita has danced for seven years with United Dance Productions under Suzette Harvey performing in numerous events in Bermuda and overseas.
A bursary award for Alexis Richens who is entering her second year of a four- year Bachelor of Arts degree in Dance along with a Business Major at Jacksonville University, Florida. Alexis has trained with the Jacksons School of Performing Arts. With economics and mathematics her strong subjects, Alexis has recently added macroeconomics to her course load as she feels the subject will help her achieve her goal of opening a dance school when she returns to Bermuda.
A bursary award for Dara Palmer who is entering her first year at Cornish College of the Arts in Seattle, Washington for a Bachelors Degree in Fine Arts. Dara has studied dance at United Dance Productions , the In Motion School of Dance and the Berkeley Institute.
Click to enlarge photos:
Read More About