The National Dance Foundation recently presented scholarships to a number of talented local dancers with the recipients including Ava Joy Moreno, Rhianna Evelyn, Jaela Bean-Lindo, T'aja Williams, Vidya Cannonier-Watson, Arielle Lee Ming, Jasiri Minors, Zoe O'Connor, and Ravi Cannonier-Watson.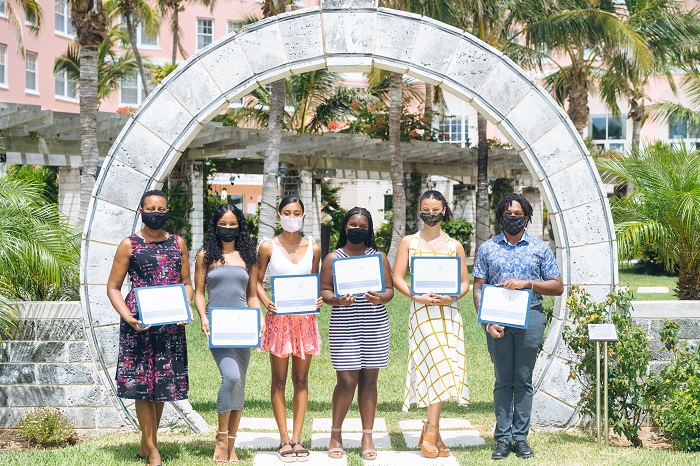 A spokesperson said, "M.P. Crystal Caesar, J.P. long time member of the Scholarship Committee of the National Dance Foundation and Chairman, Mr. Brian O'Hara, presented the 2021 National Dance Foundation Awards for 2021 at the Hamilton Princess Hotel.
"Since 2005 well over $1 million dollars has been awarded to enable more Bermudian dancers to train professionally thanks to the charitable generosity of individual and corporate donors in the community.
MP Crystal Caesar speaking at the presentation with Mary Faulkenberry, long time member of the Dance Foundation, standing behind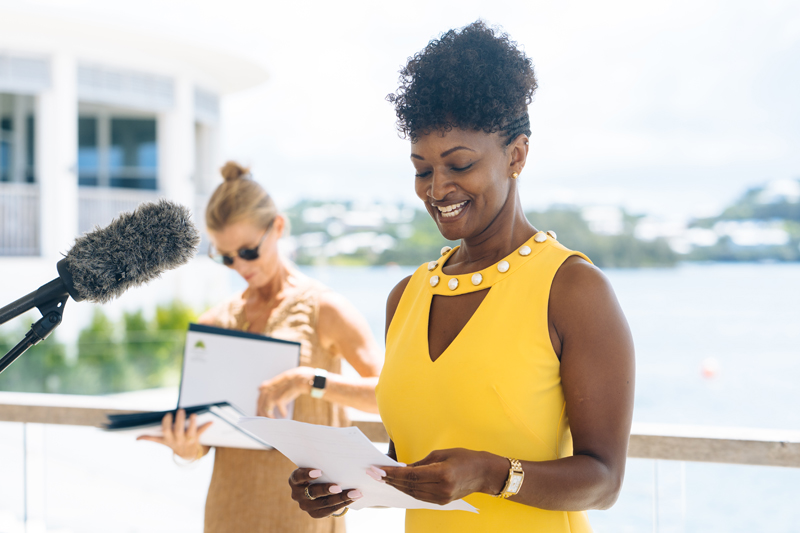 "This first three bursaries donated by the Argo Foundation bursaries are for Ava Joy Moreno, Rhianna Evelyn and Jaela Bean-Lindo.
Ava Moreno receiving her award from Brian O'Hara. Rhianna Evelyn and Jaela Bean-Lindo are overseas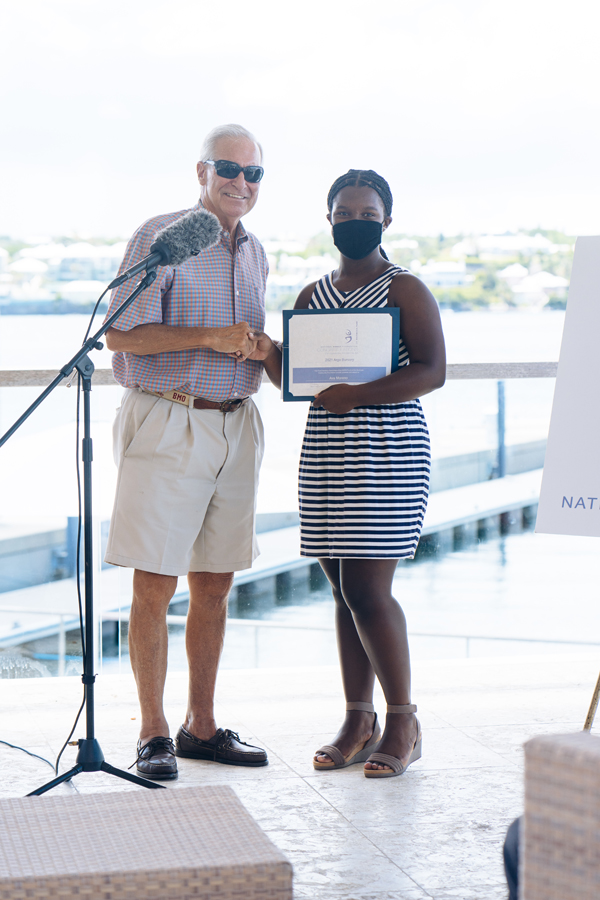 "The Chubb Foundation $5,000 bursary will be shared by two dancers T'aja Williams and Vidya Cannonier-Watson.
T'aja Williams and Vidya Cannonier-Watson with Brian O'Hara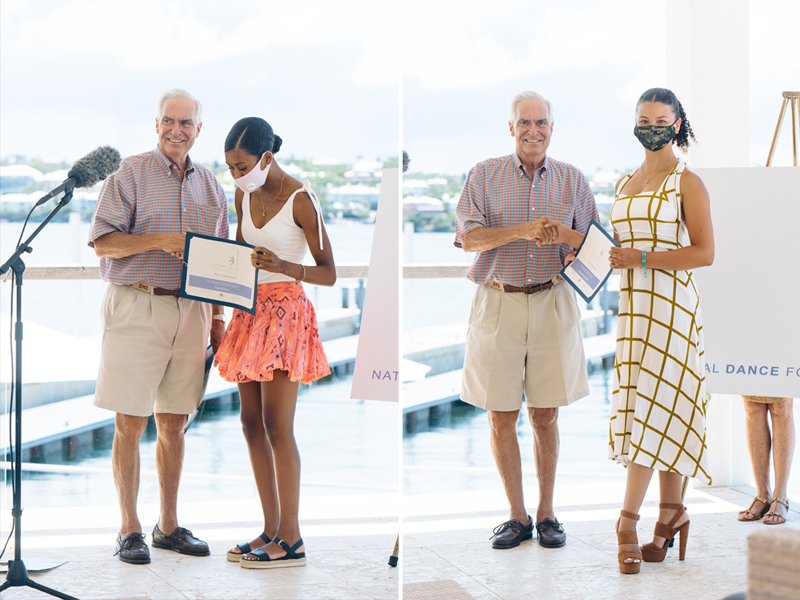 "The scholarship in honour of Madame Ana Roje and valued at $7,500 was awarded to Arielle Lee Ming. Arielle trained in Bermuda with United Dance Productions before going to the Idyllwild Arts Academy in California. She is currently entering her second year at the Rambert School of Ballet and Contemporary Dance in London. This award is generously sponsored by the Argo Foundation and was presented by Brian O'Hara
Chairman Mr. Brian O'Hara with Arielle Ming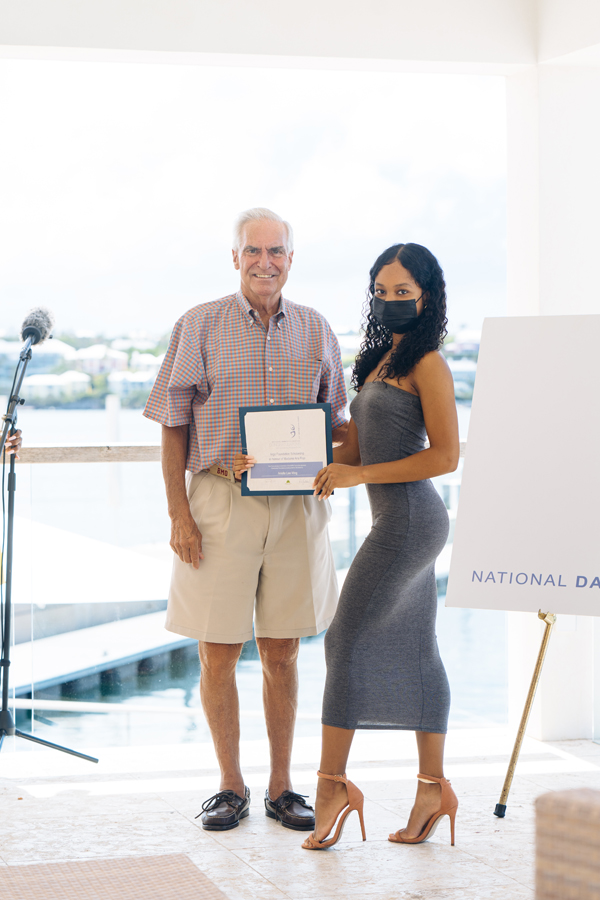 "The Humann Foundation has sponsored the award of $7,500 in honour of Mrs. Georgine Mary Russell Hill. Mrs. Hill was a beloved honorary member of The National Dance Foundation and made a profound impact on our entire community as an artist and a humanitarian.
"It was a great pleasure to have Mrs. Faith Humann as well as Mrs. Hill's daughter, Dr. June Hill ,to present this award to Jasiri Minors who is in his last year at the University of the Arts in Philadelphia.
Mrs. Faith Humann and Dr. June Hill presented the award to Jasiri Minors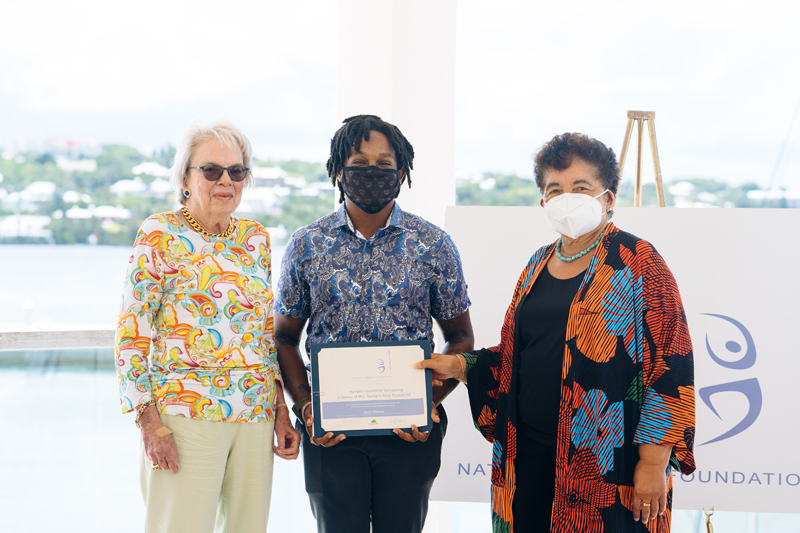 "The BF&M Scholarship is in honour of Mr. L. John Profit , a founding member of the Bermuda Ballet Association. The Dance Foundation is deeply grateful to the CEO, Mr. John Wight and BF&M for their long term commitment and generous support of Bermuda's talented and aspiring professional artists.
"This is the third year the awardee is Zoe O'Connor. Zoe is in her final year at Sheridan College in Canada and will earn an Honour's degree in Music Theatre. Zoe is still in Canada so her mother, Juliette, accepted her award from Abigal Clifford , COO of BF&M.
Juliet O. Connor with Abigail Clifford of BF&M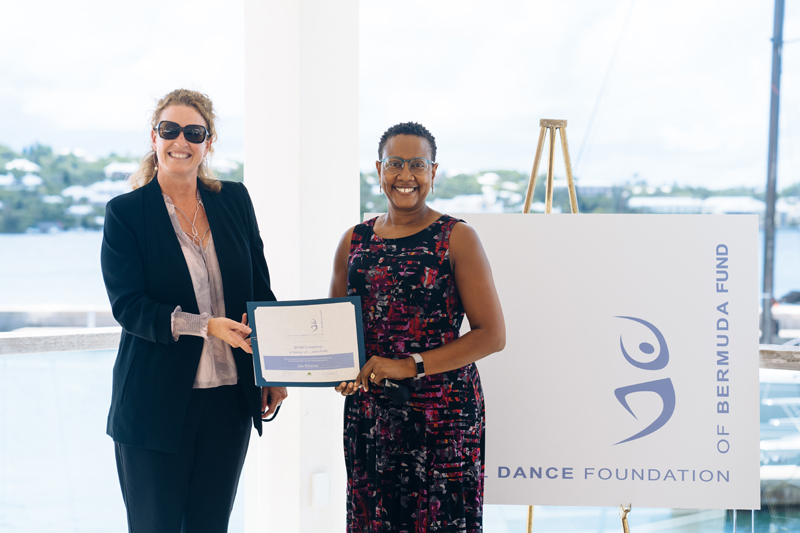 "The final presentation was the Catherine Zeta-Jones Scholarship in honour of Patricia Calnan, a founding member of the Bermuda Ballet Association and a passionate arts critic. Mr. Brian O'Hara was thanked for all this efforts and help in respect of this most prestigious scholarship.
"The recipient for the third year is Ravi Cannonier-Watson. He spent this past year as head boy at the prestigious Royal Ballet School in London and has been accepted into their Upper School programme to pursue a Bachelor of Arts degree in Classical Ballet and Dance Performance and ultimately land a position with a professional ballet company and being accepted by the Royal Ballet.
Ravi's parents, Michael Watson and Sophia Cannonier, accepting the award for Ravi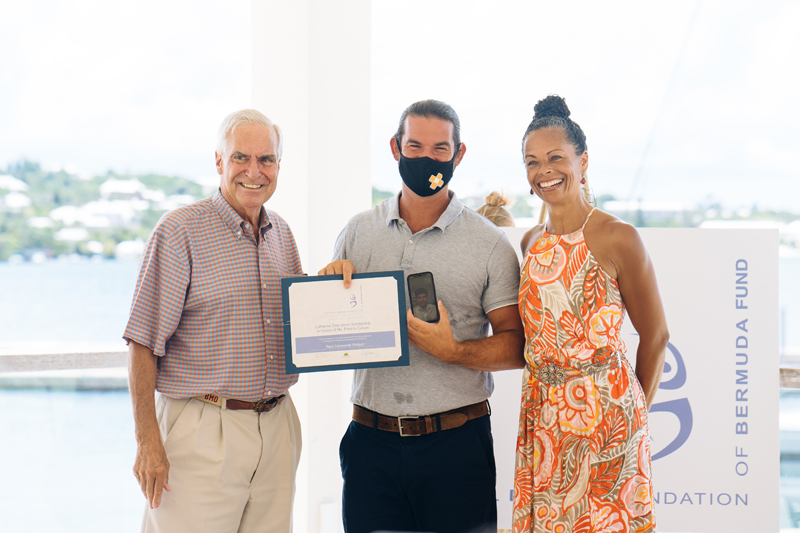 "The National Dance Foundation expressed sincere thanks to the Bermuda Community Foundation for their support and advice and also to the Hamilton Princess for their exceptional hospitality and help through the years."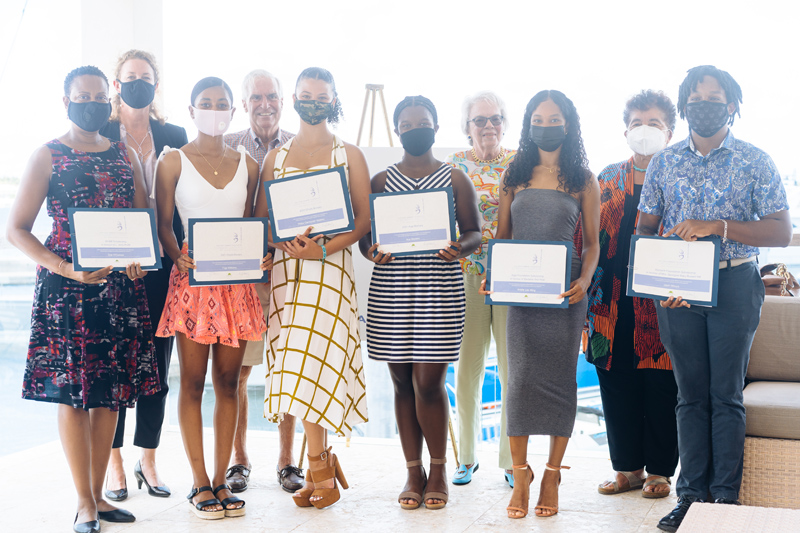 - Photographs courtesy of Alexander Masters

Read More About
Category: All, Entertainment, News