[Updated] Somerset romped to a convincing victory in the Cup Match Classic this afternoon [Aug 3], winning the coveted title on their home field thrilling the Somerset fans. As it became clear that Somerset would win fans started lining the sides of the field, ready to rush on and celebrate the win.
At the Cup Presentation held after the game ended, Somerset Cricket Club President Alfred Maybury told the Somerset players that last year he had to encourage them, but this year he congratulates them. He also thanked St George's for coming and playing a good and fair game.
Premier Cox, an admitted Somerset supporter, also spoke saying "Victory is always sweet, but we owe a debt to St George's and Somerset as they came out here in the scorching heat and they gave us a Cup Match may worth watching, so I want to say thank you. I leave it to others to talk about the west was won, but want to say thank you to both teams for first class cricket."
St George's Cricket Club President Neil Paynter spoke next, saying "This is bittersweet…I am not even going to lie to you. But congratulations to you Somerset for your victory for bringing your game and bringing it real. To my team and my skipper this is unfortunate, but it will make it sweeter when we win it back next year." He also thanked Somerset for being a "wonderful host."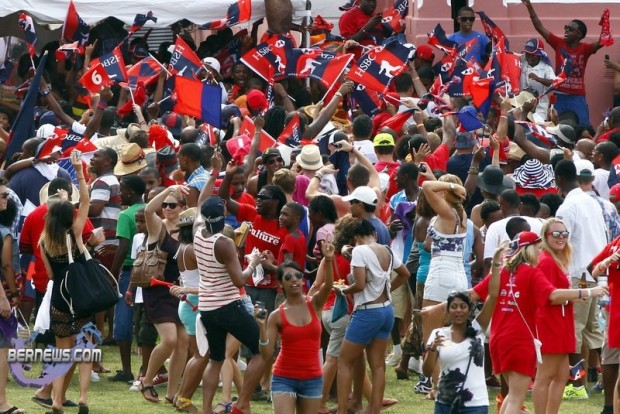 Governor George Fergusson said: "I have only been in Bermuda for 2 months, and was given briefings before I came and was told Cup Match was fantastic. That did not tell the whole story, it's really really fantastic. Congratulates to both teams, it was a great game."
St George's Captain Lionel Cann said he was proud of his team as they showed the spirit of the game, and told them to keep their heads high. He congratulated Somerset, and said for 10 years Somerset has not won the trophy and said that Somerset supporters now get to experience the excitement. He also noted "no one likes a boring draw."
A slow motion view of the celebrations, courtesy of Look Bermuda.
Skipper Jekon Edness — who had earlier been carried off the field after suffering severe cramp — accepted the Cup for Somerset from the Governor. He noted it was his 6th Cup Match and he has "never played in anything but draws and losses" which he said was a credit to St George's.
You can view all our Cup Match coverage here and all our Cup Match photo galleries here.
Click to enlarge photos:
Related Posts