[Updating - Somerset are the 2012 Cup Match Champions] The second day of the Cup Match game is expected to get underway soon, with both sides hoping for victory at the Cup Match Classic.
Somerset is captained by Jekon Edness and includes Malachi Jones, Janeiro Tucker, Chris Douglas, Kamau Leverock, Greg Maybury, Tre Manders, Derek Brangman, Stephen Outerbridge, Terryn Fray and Jacobi Robinson. The Reserves are Marcus Johnson, Shaquille Jones and Justin Corday.
St. George's  is captained by Lionel Cann with his teammates including Rodney Trott, Delyone Borden, Glenn Blakeney, Allan Douglas, Kyle Hodsoll, Justin Pitcher, Stefan Kelly, Treadwell Gibbons, Jason Anderson and Fiqre Crockwell. The Reserves are Onias Bascome, Lateef Trott and Delray Rawlins.
Our latest updates will be posted on top as the day progresses. View all our Cup Match coverage here, and our Cup Match photo galleries here. Press you "F5″ key to refresh your screen and see the latest updates.
Update 6.00pm: They have presented the Cup, with skipper Jekon Edness accepting for Somerset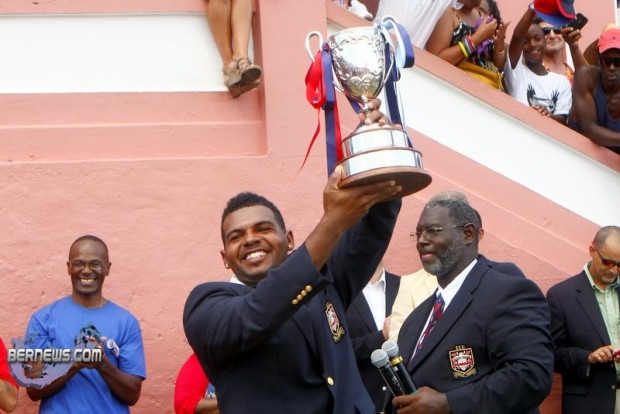 Update 4.55pm: They are getting ready to present the Cup, the players are all lined up wearing their blazers. Dignitaries including the Governor, Premier Paula Cox, Minister Zane DeSilva, Minister Michael Scott and Minister Walter Roban. All the politicians are wearing red/blue.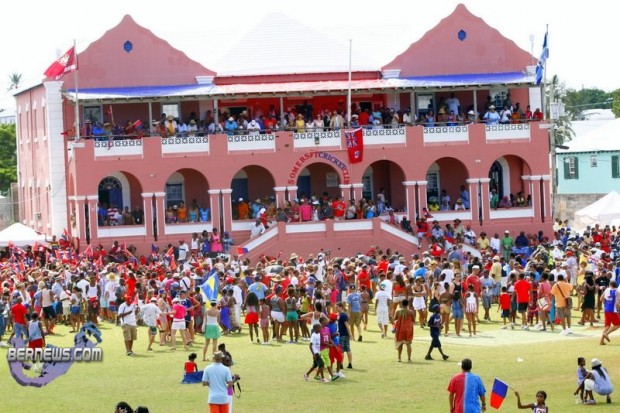 Update 4.24pm: It's official…Somerset Cricket Club have won, they are the 2012 Cup Match Champions! Fans have rushed the field..photo below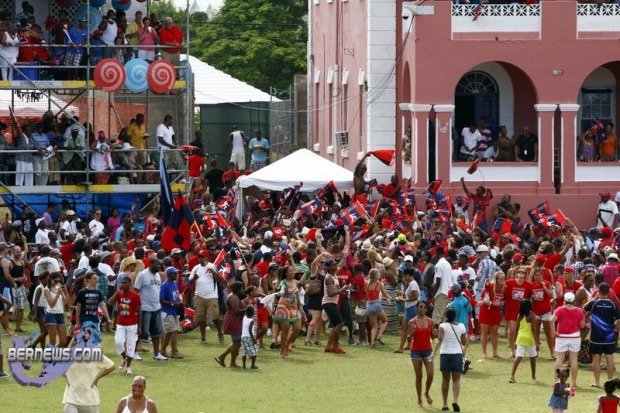 Update 4.20pm: Any ball now could bring victory. Fans are starting to creep onto the sides of the field, ready to race the field
Update 4.18pm: Down to only 2 runs needed, Somerset could win on the next ball. Delay as Blakeney was down injured, he was carried off on a stretcher.
Update 4.14pm: Only 8 runs needed to win…victory is minutes away, people are lining up ready to run to the field….
Update 4.10pm: Somerset will win this game shortly, they only need just over a dozen runs to win
Update 4.00pm: Slight delay as fans overtake the field in excitement waving flags etc. Somerset are now getting ready to bat, they need just under 30 runs…video added below of the celebration when St George's went out.
Update 3.47pm: Another wicket gone! St. George' were bowled all out for 79 a lead of 27 runs, Rodney Trott was the top scorer with 24 before being run out, Gibbons was the next highest with 18 and Fiqre Criockwell was the only other batsman in double figures with 12. Greg Maybury was the pick of the Somerset bowlers with figures of 8.2-4-18-5, Malachi Jones had figures of 6.0-1-13-2 and Kamau Leverock bowled 7.0-2-26-2.
Update 3.42pm: Two men just ran around on the field wearing what looked like some form of underwear [?]
Update 3.29pm: Another wicket! Justin Pitcher is out, bowled by Malachi Jones. Kyle Hodsoll comes in. St George's 77/9. At this stage, barring any remarkable turn of events, Somerset looks quite likely to win the Cup.
Update 3.16pm: Another wicket gone! Rodney Trott is out! Stefan Kelly is in. St George's 73/8.
Update 3.09pm: St George's 69/7. Trott on 20, Pitcher on 0.
Update 2.51pm: Another wicket gone! Douglas is out! St George's 62/7. New batsman is Justin Pitcher. St George's look to be in trouble, however there are many more hours of play left.
Update 2.46pm: St George's 58/6. Trott on 14, Douglas on 0
Update 2.30pm: St George's captain Lionel Cann is out for 4, and Somerset fans continue to get more excited as things continue to look up for them. St George's 53/6.
Update 2.21pm: Wickets keep falling, Glenn Blakeney Jr is out, Somerset fans are beginning to get excited. St George's 48/5
Update 2.11pm: St George's 47/4. Trott on 9, Blakeney on 0
Update 1.57pm: Another wicket gone for St George's, Crockwell was caught out by Terryn Fray [photo below] & Glenn Blakeney Jr in to bat. St George's 43/4. St. George's started their 2nd inning 52 runs behind.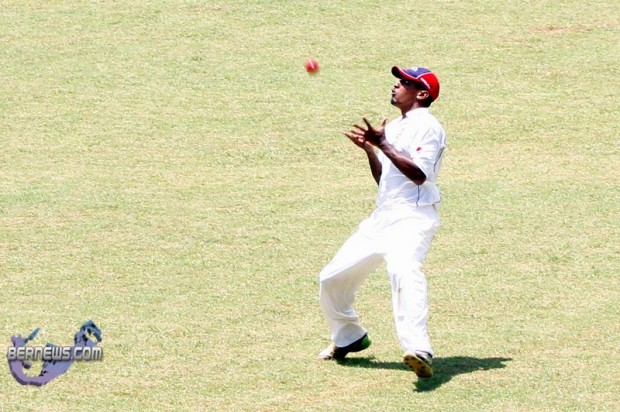 Update 1.44pm: St George's lose another wicket, Borden is out and Rodney Trott is coming in. St George's 31/3.
Update 1.43pm: St George's 27/2.
Update 1.38pm: Anderson is out, and a fan dragged a rubber duck across the field. Delyone Borden isn in. St George's 21/2
Update 1.30pm: The game is just getting back underway after lunch
Update 12.51pm St George's lose their first wicket, Gibbons is out on 18. As the two teams go to lunch the score is St. George's 219 and 20/1 Somerset 271/9. Photo of an enthusiastic St George's fan below.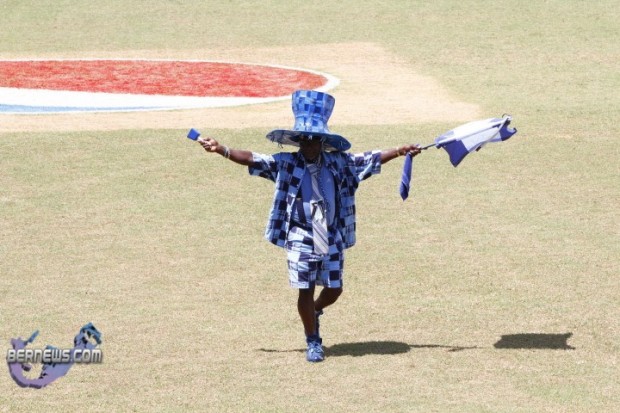 Update 12.40pm: Video of Malachi Jones being caught out by Rodney Trott is added below, scroll down to the '11.38am update'. There is an enthusiastic fan in the background who attempts runs onto the field, however trips and does some form of roll, but manages to get back up without ever letting go of his beverage.
Update 12.30pm: St George's coming in to bat. They open their second inning with Treadwell Gibbons and Jason Anderson.
Update 12.25pm: Somerset's innings came to an end when captain Jekon Edness was carried off the field with Somerset 271/8 and then Derek Brangman was caught off the very next ball.
Edness was the top scorer 57 retired, while Chris Douglas was the next high man with 33, Tre Manders added 29, while Terryn Fray scored 27, Malachi Jones scored 23 and Jacobi Robinson was at the wicket 21 not out.
In the Bowling department Delyone Borden led the St. George's Cricket Club bowling attack with figures of 24.-4-78-4, while Kyle Hodsoll bowled 6.0-0-32-2, Stefan Kelly and Rodney Trott both grabbed a wicket each.
Update 12.12pm: They have brought a stretcher on the field and carried Jekon Edness off who is suffering from severe cramps. Big blow for Somerset.
Update 12.08pm: Somerset 267/8. Pause in play as physio is heading onto the field to attend to skipper Jekon Edness, who is down on the ground in obvious pain.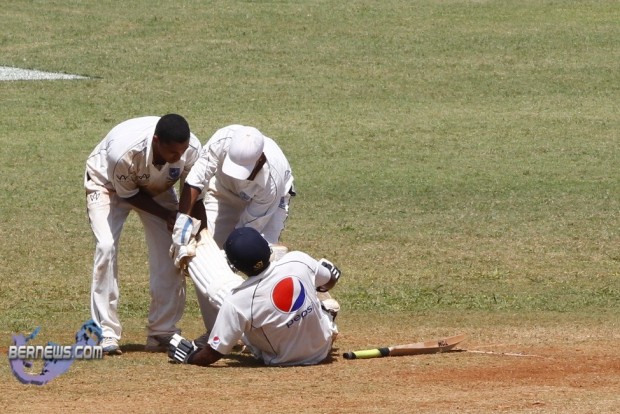 Update 12.04pm: Somerset 258/8. Edness on 52, Robinson on 12
Update 11.56am: St. George's 219 Somerset 255/8. Edness on 51, Robinson on 11.
Update 11.46am: Somerset's Captain Jekon Edness has got his half century, fans run on the field.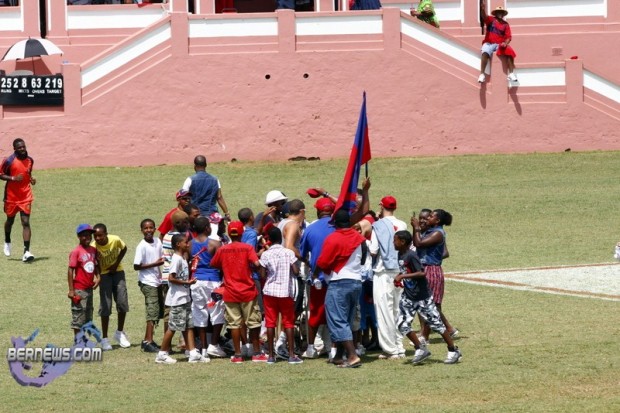 Update 11.38am: Malachi Jones is out, caught by Rodney Trott [video below]. Jacobi Robinson is in. Somerset 253/8
Update 11.30am: Somerset fans erupt as they pass St George's 219. Somerset is now 235/7. Edness on 47, Jones on 19.
Update 11.26am: Somerset 217/7. Edness on 47, Jones on 6
Update 11.16am: Leverock is out, Malachi Jones is in. Somerset 198/7
Update 11.08am: St. George's 219 Somerset 194/6. Edness on 33, Leverock on 7
Update 11.05am: Quick video clip of some of this morning's cricket:
Update 10.58am: St. George's 219 Somerset 175/6. Edness on 21, Leverock on 0.
Update 10.52am: Manders is out, 17-yr-old Kamau Leverock is in. Somerset 171/6 chasing St. George's 219
Update 10.39am: St. George's 219 Somerset 164/5. Manders on 27, Edness on 12
Update 10.34am: St. George's 219 Somerset 157/5. Manders on 26, Edness on 10
Update 10.24am: St. George's 219 Somerset 142/5. Manders on 21, Edness on 1
Update 10.17am: Maybury is out. St. George's 219 Somerset 135/5. Manders is on 15, Somerset Captain Jekon Edness is on 0
Update 10.09am: Janeiro Tucker is out with 4. St George's are pictured below celebrating.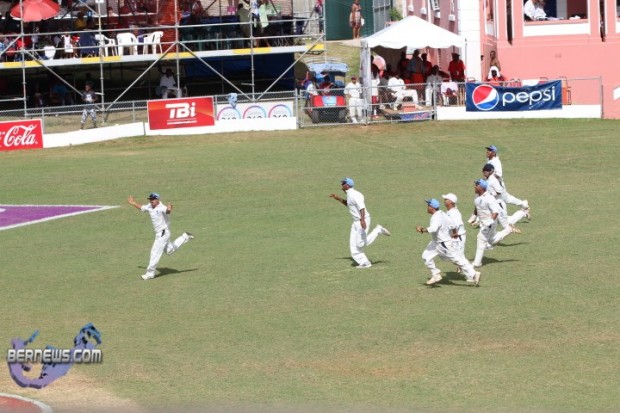 Update 9.54am: St. George's 219 Somerset 121/3
Update 9.33am: The game is under way
Update 9.03am: Players are making their way out onto the pitch. A few photos from this morning are below, more will be added as the day progresses.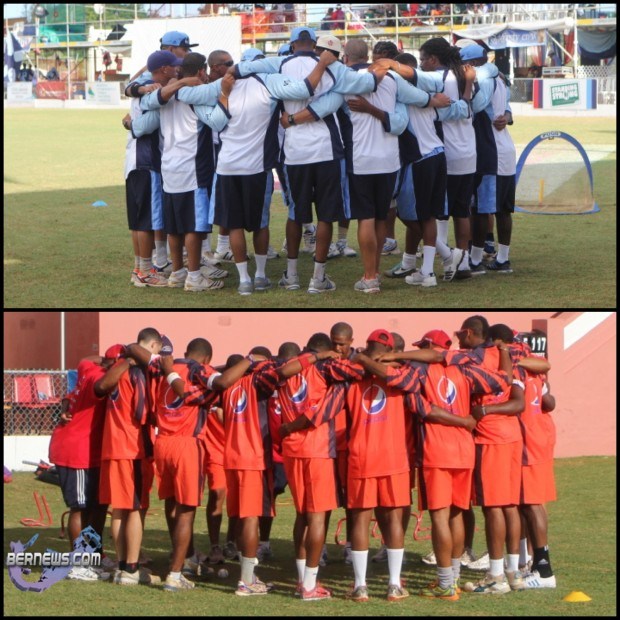 Related Posts